The living room is finally taking shape. If you follow on Instagram you've seen some of the progress involving a "new" Craigslist couch and new floors!Now that we have the new floors in, my vision for the space can seem some fruition at last! However, I'm sorry, you'll have to wait another week or so to see the space because I'm just SO close to having it 90% perfect. (10% will always be imperfect and in need of improvement and fun decor if I'm honest.)
Instead of giving you the new, here are two before shots of the living room from the original listing pictures to ponder over.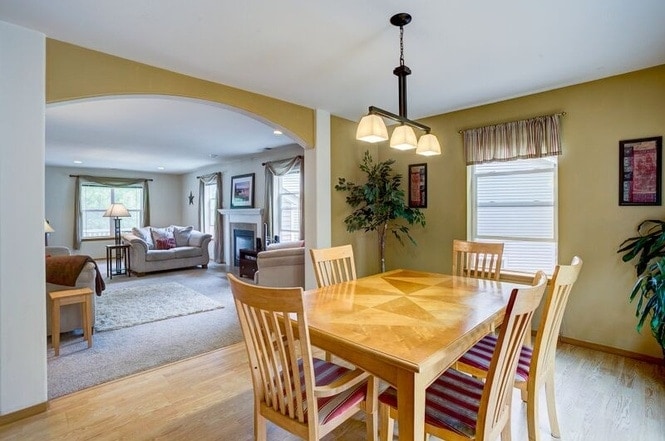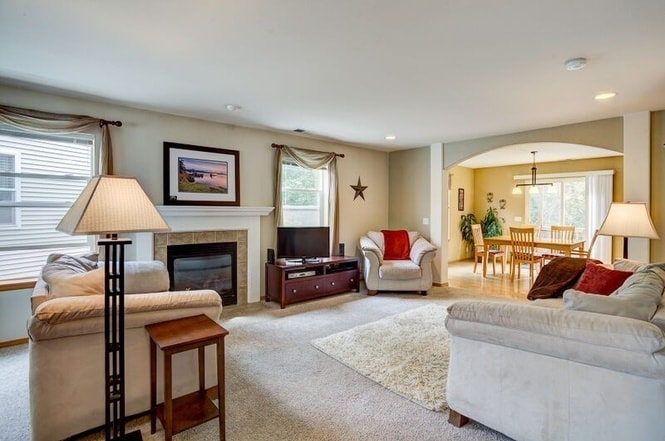 Now I'll give you a teaser of my living room style with items from Wayfair.com as part of their Blogger's Picks program.

Craigfad Arm Chair
This armchair has beautiful mid century lines softened by the fabric cushions.

Romero Wall Mirror
More color is always better in my opinion and this mirror would do just that on a mantle in the living room.

Higgin Lounge Throw
I love how this faux fur throw softens industrial modern furniture and makes you want to cozy in for a nap.

Casual Bakers 78" Etagere
All the industrial vibes are exuded from this gorgeous cross braced metal and wood shelf.

Kellee Black Area Rug
This rug adds character to any room with it's eye catching and contrasting aztec pattern.

Roanoke 81″ Arched Floor Lamp
Create an intimate feel in a large living room with a sleek, modern lamp.
What will I end up doing? Well, probably not spending a ton of money.
Enter IKEA!!
Yes, I've been doing some Ikea shopping of late. In fact, I'll tell you a story I recently shared on Facebook about my latest Ikea adventure(s).
Ikea: An Anecdote of Enchantment, Despair, and Taylor Swift.
After the baby went down last night I decided to drive 50 min back to Ikea to get my obscure pieces and exchange a dented piece of shelf I had purchased (because "might as well.")
…I return said shelf at 8:20 pm, and run (gracefully) to get some last minute Swedish Meatballs before the restaurant closes at 8:30pm (again, "might as well"). After stuffing my face en route to the shelf section I discover that the last 7 pieces of the part I needed has "just sold out." Nooooooo.. (Meatballs was this YOUR DOING?) Crushed, I ask the man in yellow if I can have my dented piece back. He checks returns and says it was already tossed. (I feel a slightly crazed look creep across my face.) I'm not sure if he thinks I'm joking when I ask if there is a dumpster I can dive into, still he tells me "that's not how they do it… Come back in 2 days and we should have it in stock again." I drive home, meatballs souring in my stomach, windows down, blasting T-Swift "We Are Never Getting Back Together."
Yet– love is hard. And we need each other Ikea. Cheaply made, deconstructed furniture is hard to come by. So like T-Swift. I'll shake it off. For you.
The End.
Hahaha, can you relate?! Damn my love for you Ikea, you sweet, lovable, infuriating, Swedish monster.