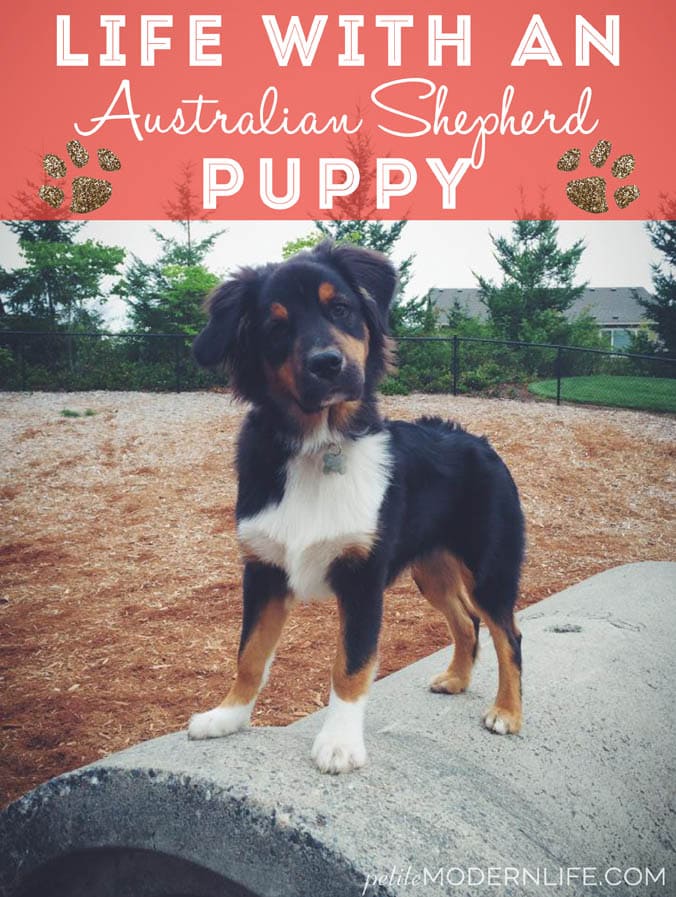 Happy Friday!!
If you follow Petite Modern Life on Instagram, you'll see plenty of sweet pics of our Moose pup! Since I love him so much, I thought I'd share with you what life is like with an Australian Shepherd puppy! I always love learning about different breeds and didn't even know I wanted an Aussie until I looked into different dog breeds and what would work best for our lifestyle! Maybe I can win you over ;)
We got Moose back in April when he was 7 weeks old and about twelve pounds from Long Shadow Aussies (they're genuinely amazing, loving, professional breeders. We'd go back!). Now he's almost seven months old and fifty pounds (and still growing!) He's been such an amazing puppy. I'm sure it has to do with his breed temperament, good breeding, and (hopefully) decent parenting.
A little about Moose: He's a (full size) pure bread, Black Tri Australian Shepherd. He doesn't bark except for the rare occasion when he sees something different walking towards him from far off(he protects his herd!). He's wicked smart, sometimes fueling his puppy stubbornness. He's learned his basic commands (though we're always practicing..) as well as roll over, high five, toy names, people names, sit up (kinda) and shutting open doors!
We did one session (7 weeks) of puppy kindergarten that was VERY helpful for us as new dog owners. We crate trained him and he's learned to chill outside of my work (I nanny) on a line without whining, barking, or causing too much trouble. He's around kids and parks all the time and does fantastic! Doesn't chase them or get offended when the run up to say hello. He loves playing chase with other dogs at the parks and at home. Moose loves the water and has become a great swimmer and decent stick retriever. He does great with our two young cats, keeping them off the counters and tattling if they do get up there!
So there's a little about what life's been like for us as puppy parents these past 6 months! If you have any questions about puppy training or the Australian Shepherd breed let me know and I'll try to help out.