This week's Look Book will feature my plans for styling the entryway wall. On Tuesday I shared our tutorial and progressive pictures of us finishing this space with paint, floors, and wainscoting. You can see that post here if you missed it! As you can see in the first picture, there won't be a ton of space, but I want to make the most of what space we do have for storage or seating. Some of the furnishings I have pictured are the general idea of what we'd probably use. It's fun and challenging to choose or mix  modern clean lines, mid century wood feel, and the heavier industrial look.  We're really just starting to fill our house with our choice of decor, so I want to test it all out in this way. It's exciting!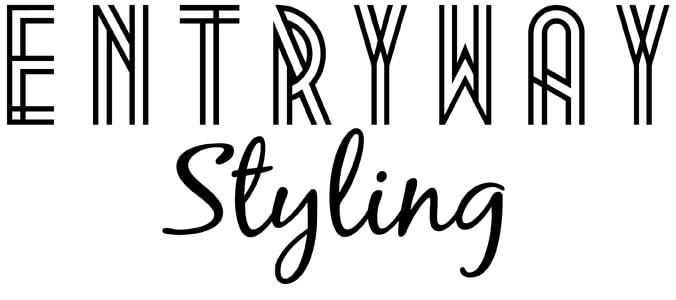 | Picture 1 |
I love geometric shapes. A hexagon mirror is something I think we could cut ourselves out of a craigslist bathroom mirror. The diamond ceiling fixture is from Young House Love's Shade's of Light collection. I found the awesome shelf on Only Decor Love's blog made by Bloomingville.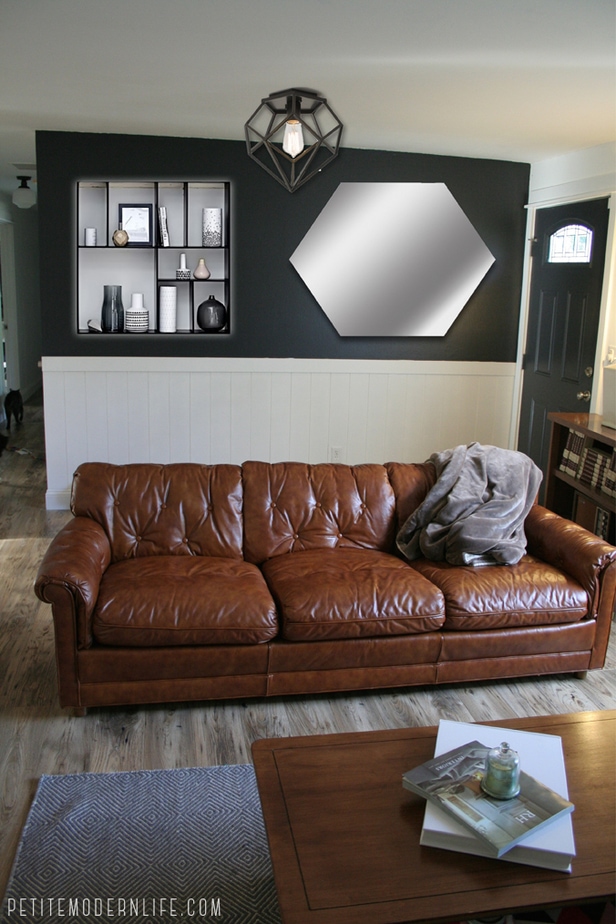 | Picture 2 |
I am considering a full white shelf that could be used for decor or storage. I wonder if it would look better from the floor to ceiling.. The Planter is from West Elm, and though it is an outside planter, I love the look of the material. The mirrors are also from West Elm. The bench I found randomly in an image search, but I love the combination of wood with black leather/fabric.  The light is my favorite piece and as soon as we wire that room, you can be sure one will be going up. I found the idea at Hunted Interior and I can't wait to make one…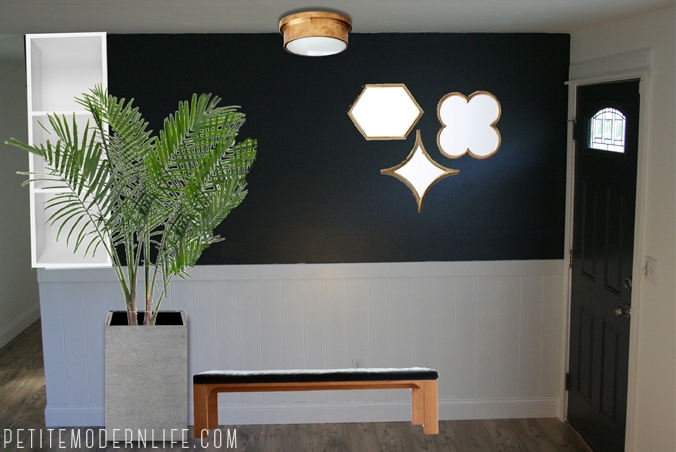 | Picture 3 |
I love the artwork from Serena and Lily. They have a lot of fun art (or as I see it, "art ideas for Karisa..") on there site. I'm digging floating consoles, and this one could be a great "walk in the door put in your keys and wallet" station. This one is sold in an Etsy shop by Teal and Gold. The antlers I could pick up/request from my uncle… who hunts (sorry Bambi…)The wood bench would look great against the dark and light wall and flow into our multi-colored floors. I'm also always looking for a spot to put on my shoes or store shoes under.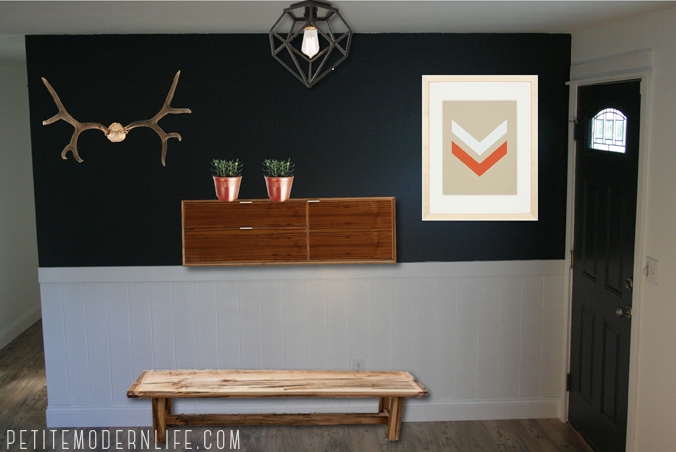 | Picture 4 |
I really like the way this one turned out. The sailor mirror and lettered coat hooks are from Anthropologie. The artwork and table are from Restoration Hardware. And the chair is from Ikea. The gold light and mirror contrast beautifully with the dark accents but are balanced with the wood chair. A feast for the eyes. I'd probably put some geometric wood accents on the table along with a happy plant.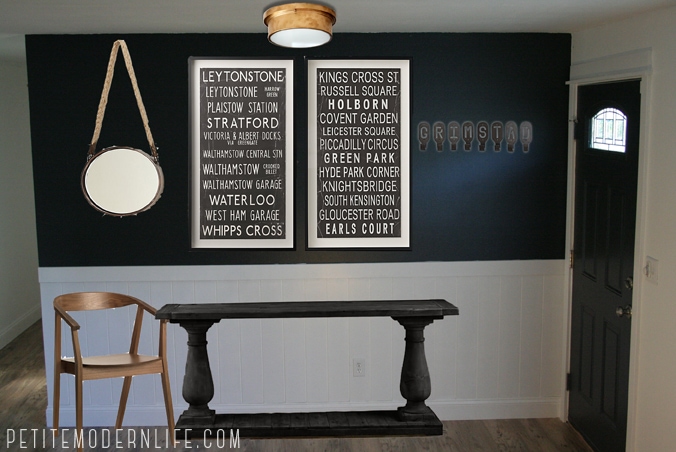 I'm excited to see what we come up with for this space! Which scenario do you like the best? Or would you mix some of the pieces up more? Follow me on Pinterest to see more of my favorite styles!