Having a house rather than an apartment to decorate has given me the desire to work with larger and fewer decor pieces in effort to make my home feel minimal, crisp, and modern. At least this is what my design urge is for now. I came across a featured home on Apartment Therapy where they had this piece of art displayed and it got my wheels turning that I could do something similar.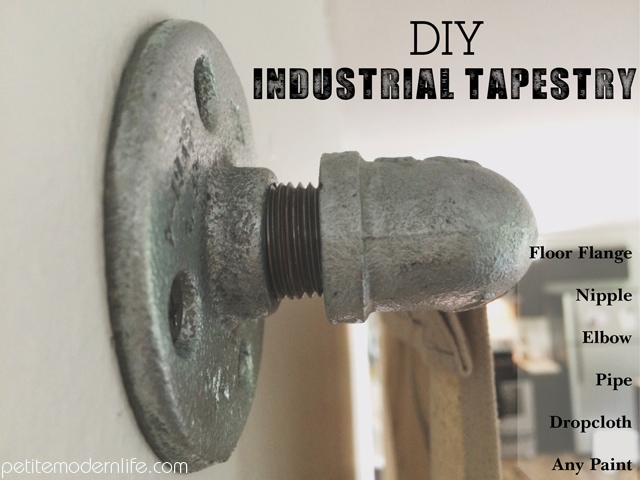 Everything you need for this could be found in one stop at your local home improvement store.
Painters Drop Cloth
Desired sized galvanized pipe and fittings (mine were 1/2″)
1/2″ Floor flange (2)
1/2″ nipple (2)
1/2″ elbow (2)
1/2″ x 18″ pipe (1)
8 dry wall screws
Paint (I used some from my interior accent wall can)
Tools: Drill, Sew kit or sewing machine, Wrench (or friend), Paint brush (I used whatever I had, but for more concise lines, I'd probably have found a fat round brush at a craft store.)
Assuming you don't have any of the pieces but the paint and brush, this art would cost about $40 (with leftover drop cloth).
Lay out your drop cloth and cut the desired size plus an inch or two for your tapestry. Iron out the creases and your edges then sew your seams (by machine or hand, it will probably go unnoticed.) I cut mine on a corner so I only had to sew 2 seams. Clean your pipe and fittings with window cleaner (the insides are oiled so watch your hands and clothes.) Fit the pieces all together. It'd be easiest to turn the fittings with the help of another person, but my husband was out so I made use of a wrench and was able to get everything to lay the right way. After positioning the set up in the right spot on the wall, we screwed it in using drywall screws. Then we fastened the tapestry around the pipe simply using safety pins.
Tada!
I'm enjoying the piece so far and have been thinking of all the other fun simple designs you could use. You could even go to the fabric store and buy a different color canvas sheet. Let me know if you make something similar! Instagram @petitemodernlife !