In my first office makeover, that Black White and Gold Office, I showed how to build your own Ikea desk with just three desk pieces. It only cost me $26! This Ikea desk has been the MOST versatile piece of furniture we've owned in the past couple of years! Here's why…
Don't miss these other amazing easy, affordable, and gorgeous IKEA hack DIY's on Petite Modern Life!
Ikea Tarva Nightstand Hack / Ikea DIY Floating Sideboard / Ikea Ivar Tiered Shelf
It has moved with us THREE times and is still the best office desk we've ever wanted to own! If I were to update our current office, our desk wouldn't be touched. And that's saying something, because I loooove myself some new furniture buying excuses! Can I get an amen?!
Scroll to the bottom to see the possible desk variations!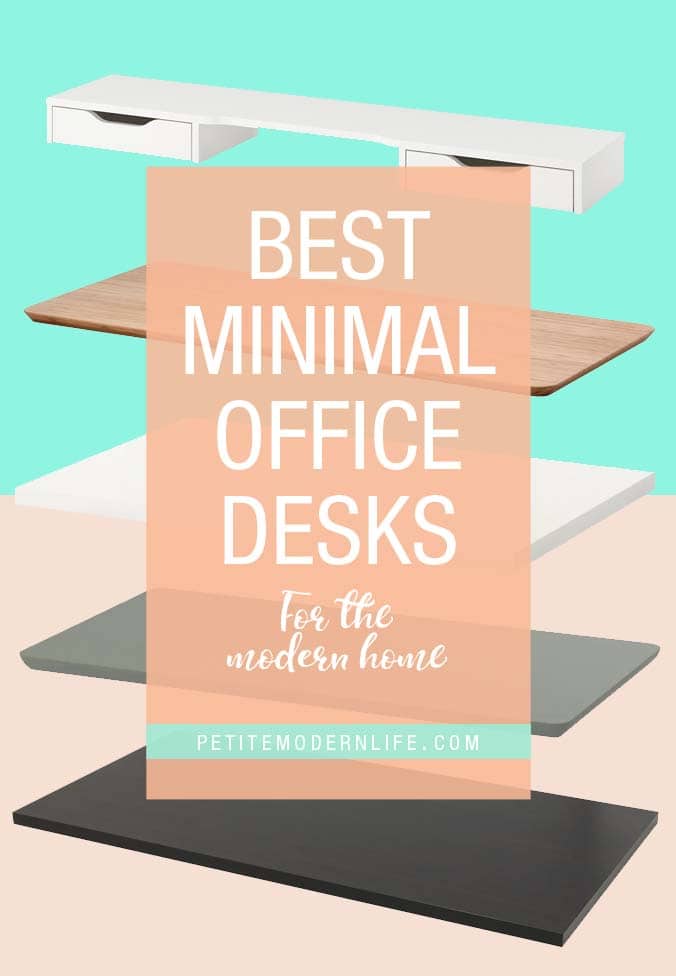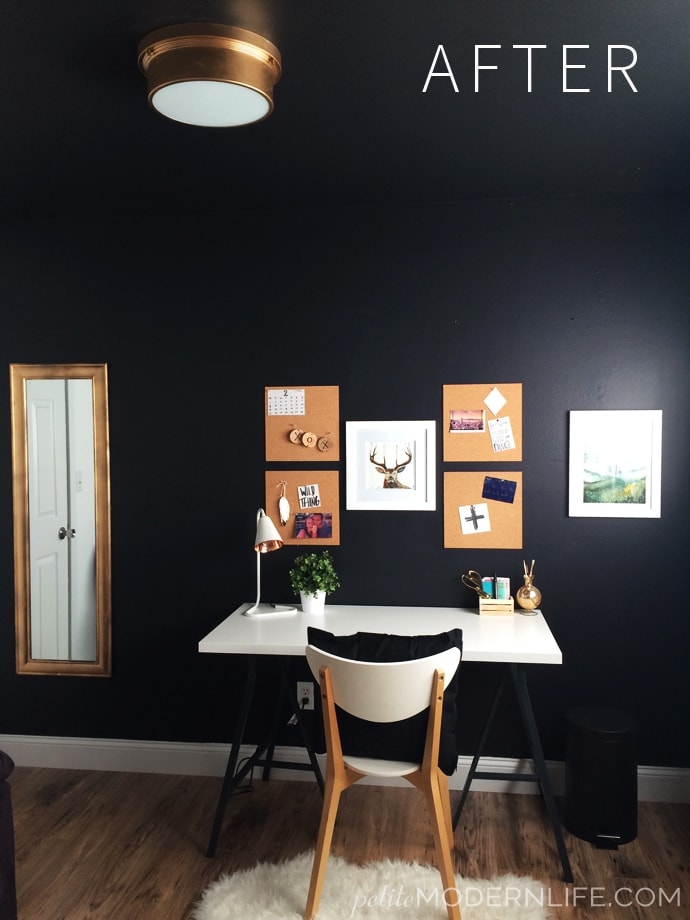 Ok Karisa, WHY do you love this bare minimal office desk setup so much? Well let me just tell you!
1. It's the most versatile office desk on the planet.
Sure you can get the mother of all office desks like this one…

And a large office desk is not a bad thing! Large desks, sometimes called "computer desks," can really help establish a room as an office as well as be the focal point of the space. But this large piece of furniture can ONLY be a desk.
My little Ikea desk can be taken apart and used for anything!
This Ikea desk can be used as a
Food serving table
Party gift table
Sewing table
Crafting table (never worry about "messing it up because it's so inexpensive!
Computer desk
Accent furniture
Mini photography studio table
Chalkboard table
Kids table
A white basic table is so versatile you might just want one in your house "just in case!"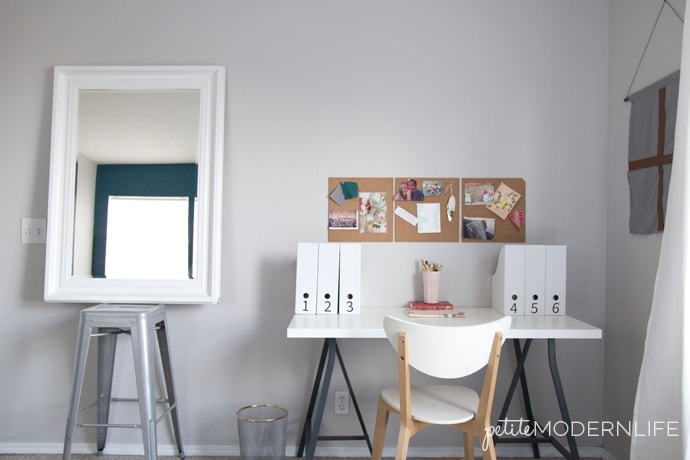 2. You can quickly and easily store this desk anywhere.
In one rental, our two person office was also our guest room. But the room space was really kinda cramped when the air mattress was blown up. So we would move my desktop off my little DIY Ikea desk, over to my husband's (Ikea) desk, and stick the table top and leg into the closet. Presto poof!
These table tops are super lightweight, you can also store them under a bed, under a couch, behind a couch, in the garage, or leaning casual and cool against the wall! (Fine art anyone?)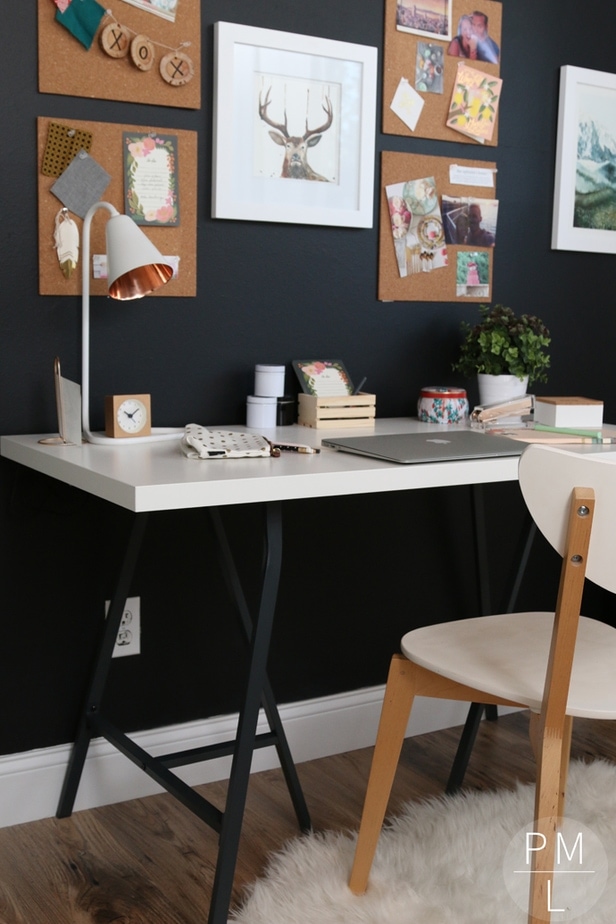 3. You can use Ikea table tops for all sorts of projects!
We actually have two Ikea table tops that we've used the past 5 years! For something that cost $20 each, that's a pretty good piece of furniture investment!
You can easily paint and Ikea table top with chalkboard paint for a super cute chalkboard! I always used this chalkboard paint and a high density foam roller for the best desktop (and any flat, smooth surface) application.
I made one Ikea table top into a fold down sewing table!
4. There are so many table top and desk leg options to fit your home style!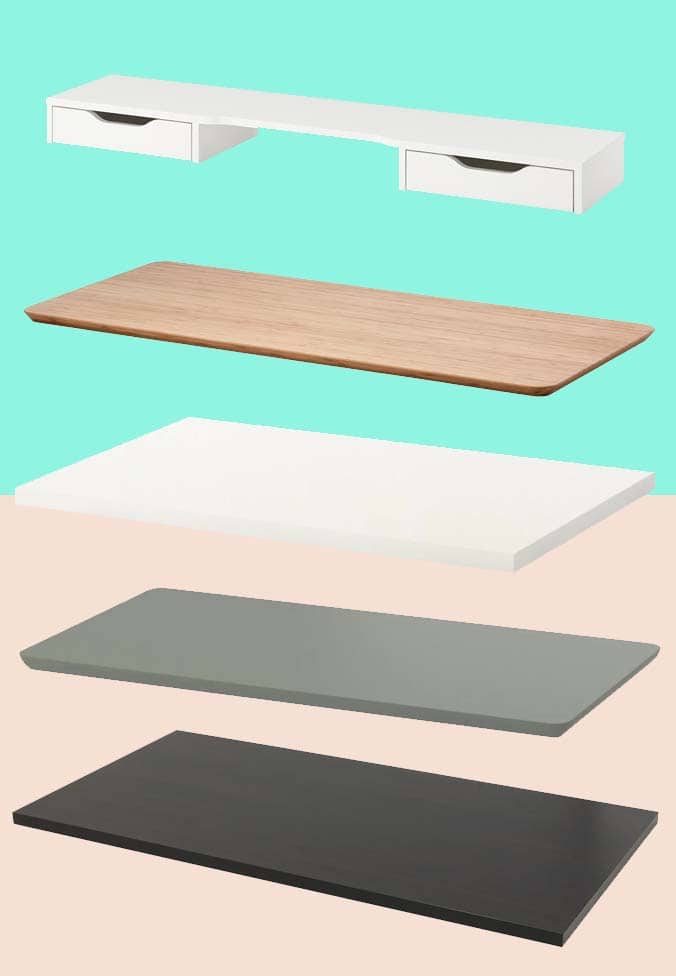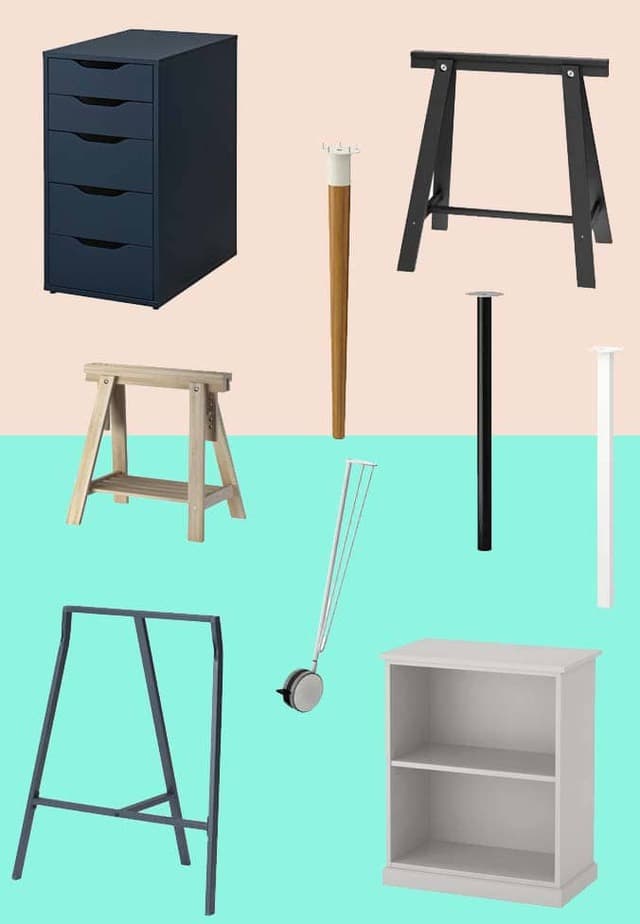 Combine any of these individual desk pieces from Ikea to create the perfect look for your office corner! I've always been a fan of the trellis legs, but can we talk about that mid century leg for a moment please?!

The Masculine Office Desk Arrangement
If you're looking for a richer office space try combining the warm wood top with the dark blue Alex drawer bottoms. Then add black accents and a black office chair to complete the masculine look.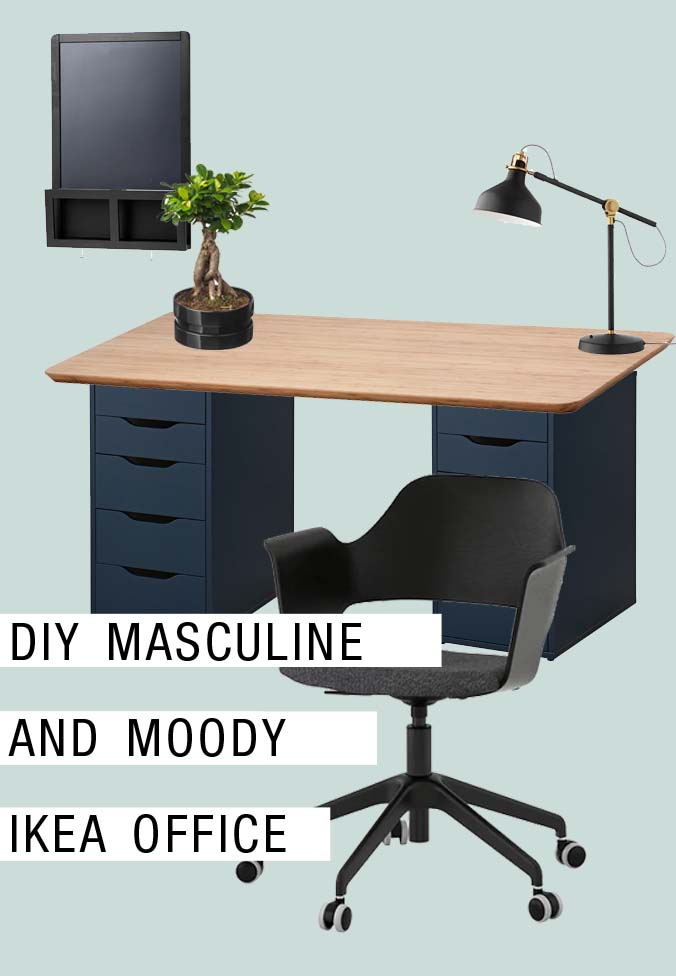 The Mid Century Modern Desk Arrangement
I think bright and airy office spaces provide the most head space for getting things done AND feeling happy. A modern vibe office setup will totally get you there. Every piece of this is so simple yet so on point!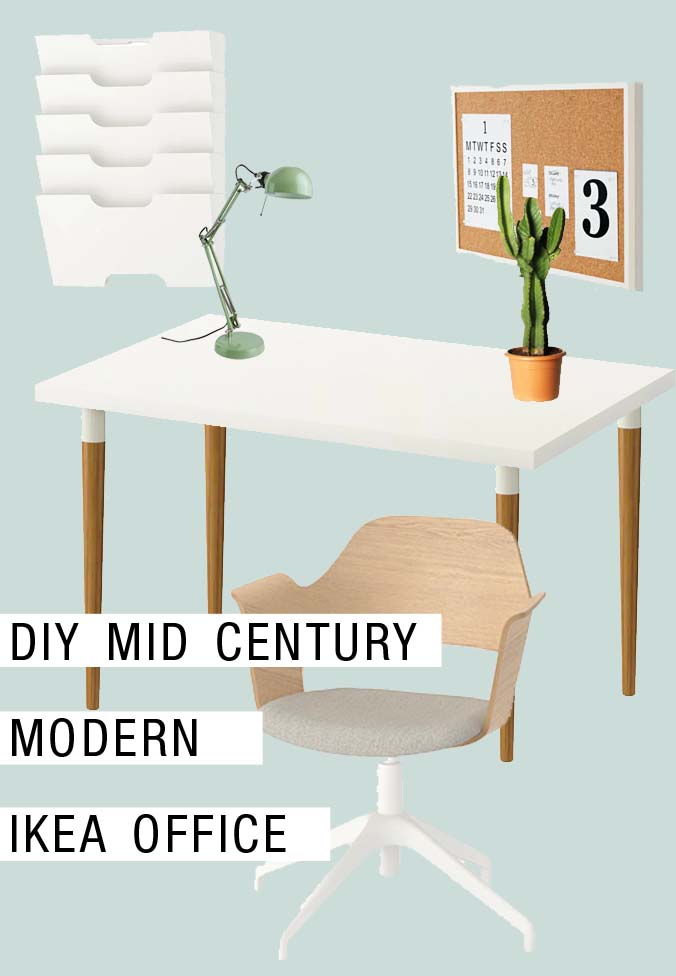 I've shared my Ultimate Guide to Office Desks here. There are so many cute, minimal office desks for sale, it is so true. Does every cute desk at Target, West Elm, and Pier One Imports turn my head? Um yes!
But I also love a GOOD DEAL on office furniture.
Ikea sells the perfect selection of pieces to build your own desk that fits your office and transitional home exactly like you need! I mean, truly, that's what Ikea does best and why I LOVE buying home decor there.
My Ikea desk cost me a total of $26!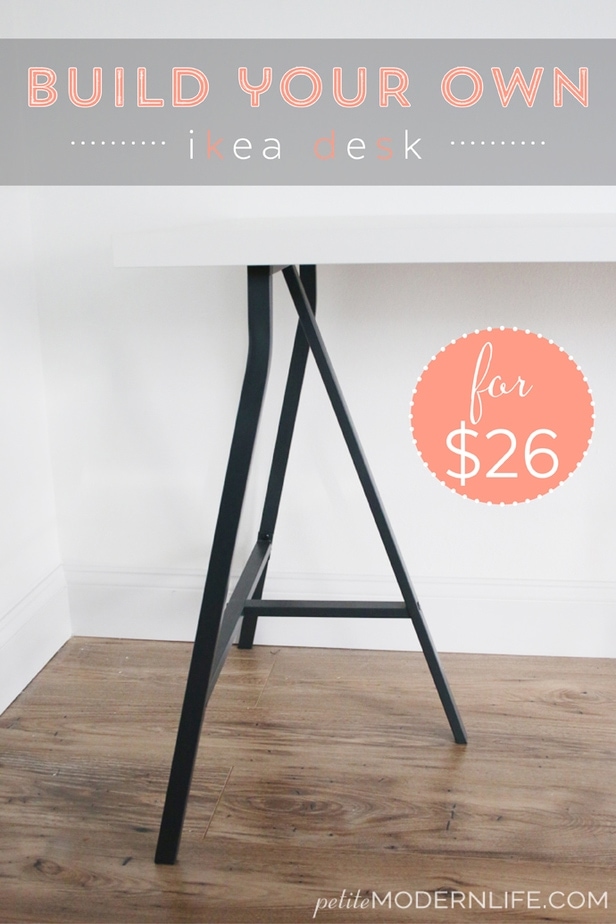 I was looking online at Ikea one Saturday and saw they had a table top & leg/trestle section. I couldn't believe it when I saw these trestle legs for only $10 each! And a 37″ white table top selling at only $6! I was practically out of my house and in my car before you could say Swedish Fish, driving 36 minutes South on the interstate with only 2 hours till closing.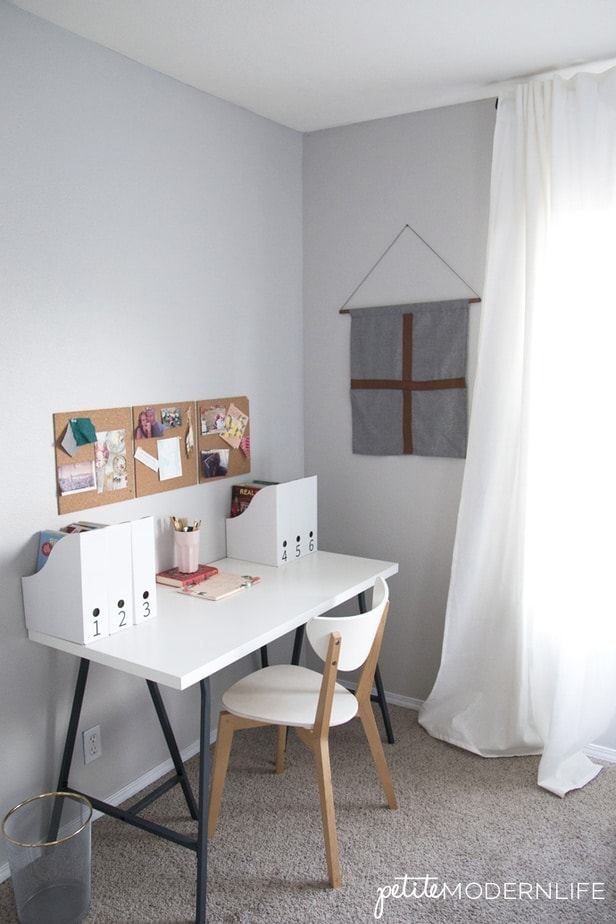 Driving to Ikea last minute has become a weird habit of mine this past year… My husband usually says "um I'll just stay here" when I get the crazy Ikea lady look in my eye. So you might glimpse me turbo powering my cart through the shortcuts while I'm in single-shopper-mode getting my ish so I can go home and put it together!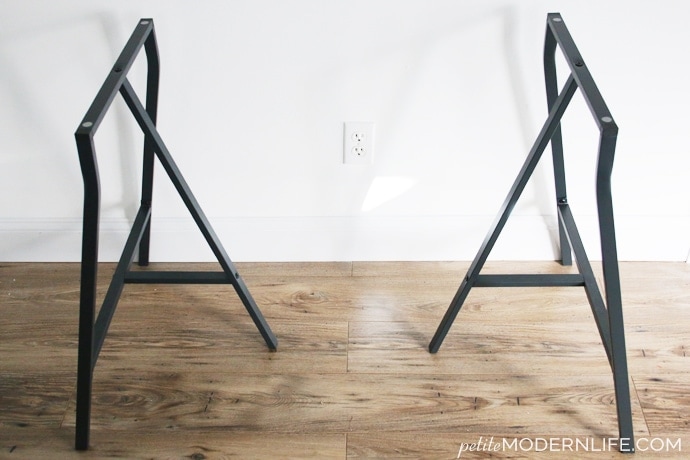 And these are really on the easy assembly chart. (I admit… I did screw one or two of the..err.. 6 parts.. on wrong. But that's also a weird Ikea related habit of mine.) The table just lays flat on top!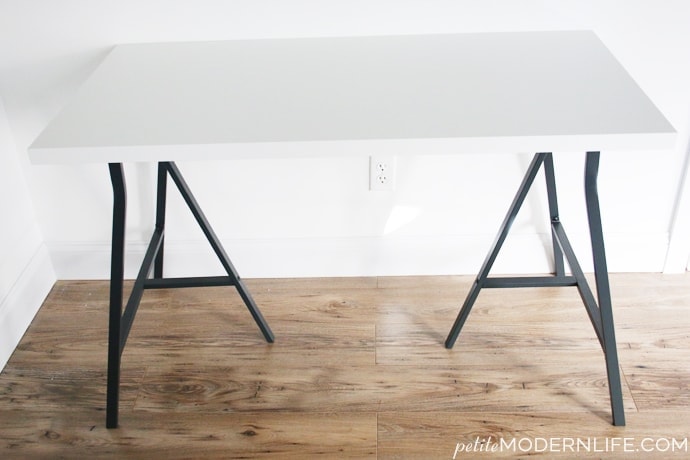 The whole thing is pretty sturdy in my opinion. I do believe it came with some screws to hold it all together, but I haven't tried yet. My cats have jumped on and off it and I cant rest my arms on the edges without it budging. Though, I can imagine a toddler hanging on the unmounted sides ending poorly. Just food for thought.
Here it is against the black wall.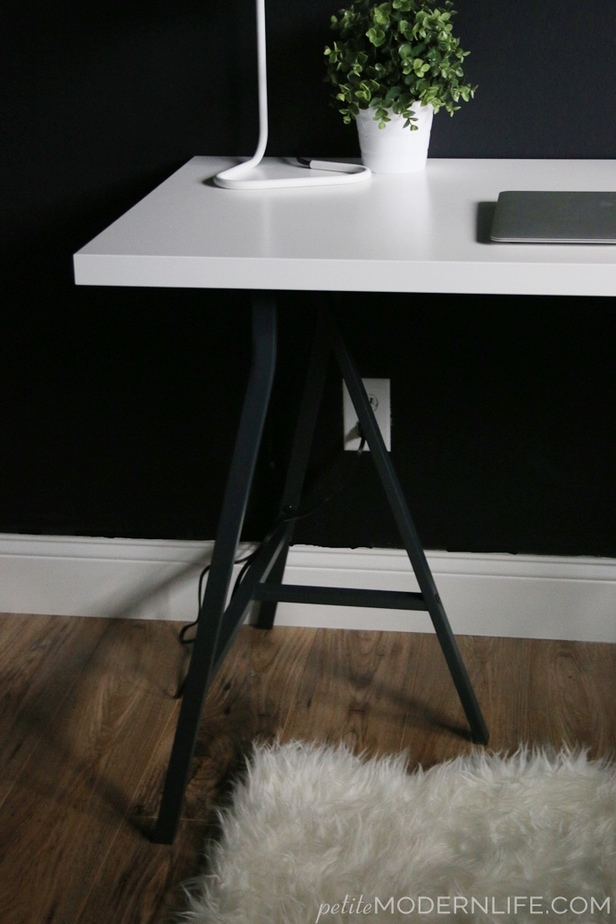 We've combined the trellis legs, two table tops, and a cabinet base to create a sturdy two person office desk that easily hold two desktops and all the office paraphernalia that seems to accumulate on top!
Ikea has a few more options for table legs + tops too, if they're available in your area or online. Here's what I've found so you can build your own Ikea desk too!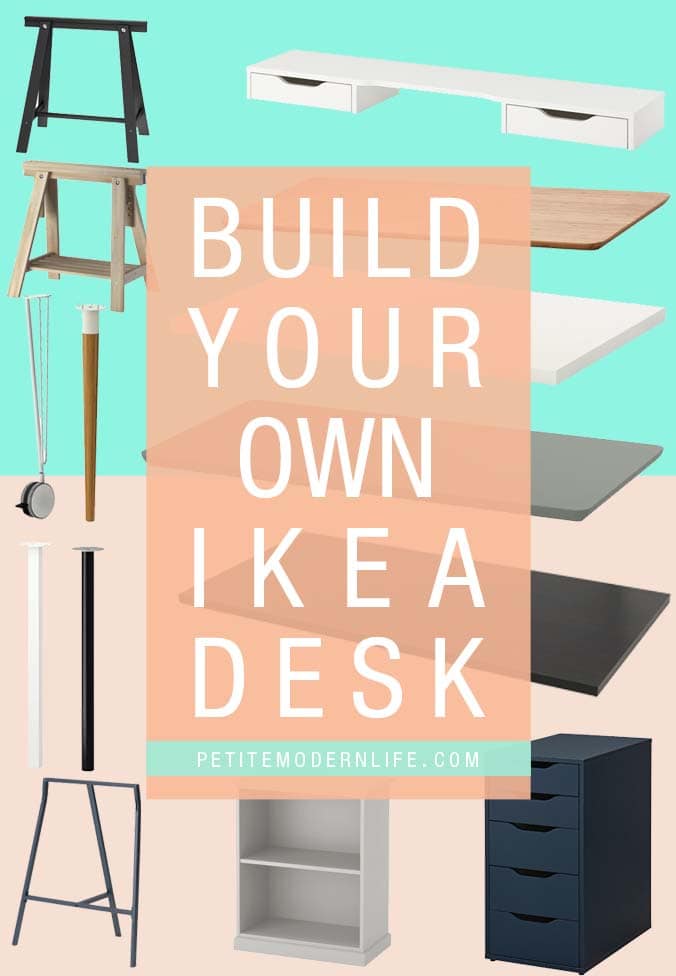 They have a great selection of table top options starting as low as the $6 I paid for the LINNMON top and higher for the bigger or solid wood tops. The trestle legs are just too cool! If you prefer a heavier look, the top two are just for you.
One even has a shelf for a plant or some notebooks. I added another option of using this ALEX drawer unit. We have this one and it's a fantastic option for under the desk on one or both sides! Dwell Beautiful used the rounded corner top in her office update recently, check it out here!
Does this help you plan your new office any better? It's so nice to have an inexpensive desk option that is still stylish (and new!) Check back at THESE inspirational offices and note how many use these awesome legs!