When the dahlias start to bloom in full bodied color, I find myself smiling remembering a blustery September 17th in 2011…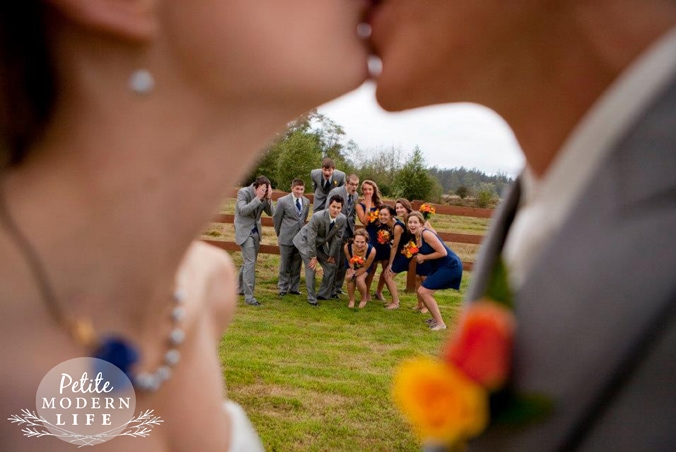 Since I still love weddings as much as I did back then, I wanted to share our special day with you. I loved getting creative with the pictures and the budget. We accomplished it all for under $6000, including the honeymoon.  Mind you, this wedding happened before Pinterest was in my life (for better or worse!). I hope you enjoy.

|Location|
A family friends house and backyard in Skagit Valley, Washington. We helped clean the house, large garage, and property before the wedding. This made it less (not entirely) burdensome for our hosts. We also rented one honeybucket for two days. We saved money on our tent by renting a medium size and only 2 side panels, a long and short, to block out the winds chosen direction. We also purchased 2 small canvas canopies to have on hand. Some summers in Washington last until October, in 2011 however, it ended the weekend before we had our outdoor wedding! By God's grace the wind and rain stopped right as the ceremony was about to start ad it stayed clear the rest of the night!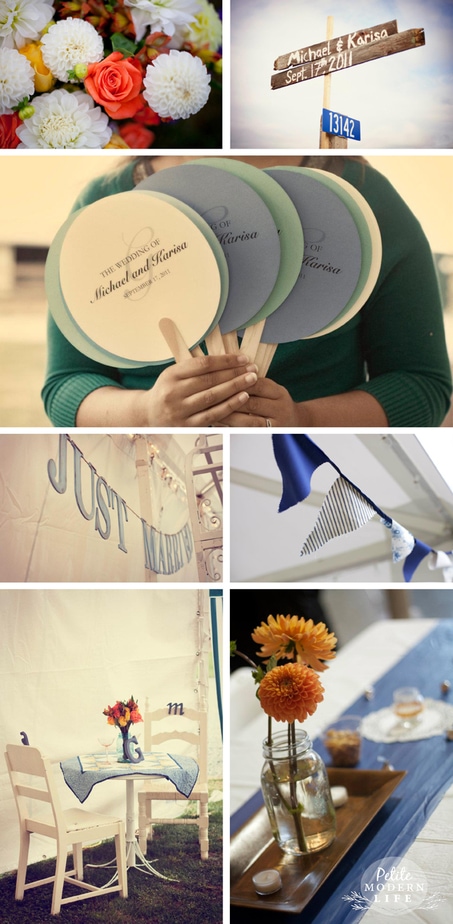 |Decorations|
I decided to keep it fairly simple and used craigslist to find previously used wedding decorations and scored on some wooden and silver trays and stands. I didn't care for a slide show so we just selected a few pictures to hang on an old frame from my great grandmother's house. I used extra large mason jars of my mom's for vases with tea candles scattered around them. Our table cloths were white plastic, and we used heavy paper plates that we stamped in the center. we printed out our programs on the printer and used a circle cutter and Popsicle sticks to make little fans. I decided to do a his & her table and let the wedding party sit wherever they wanted (though family had front row seating.) Our flowers were from Costco and my grandmother put together the bouquets and boutonnieres.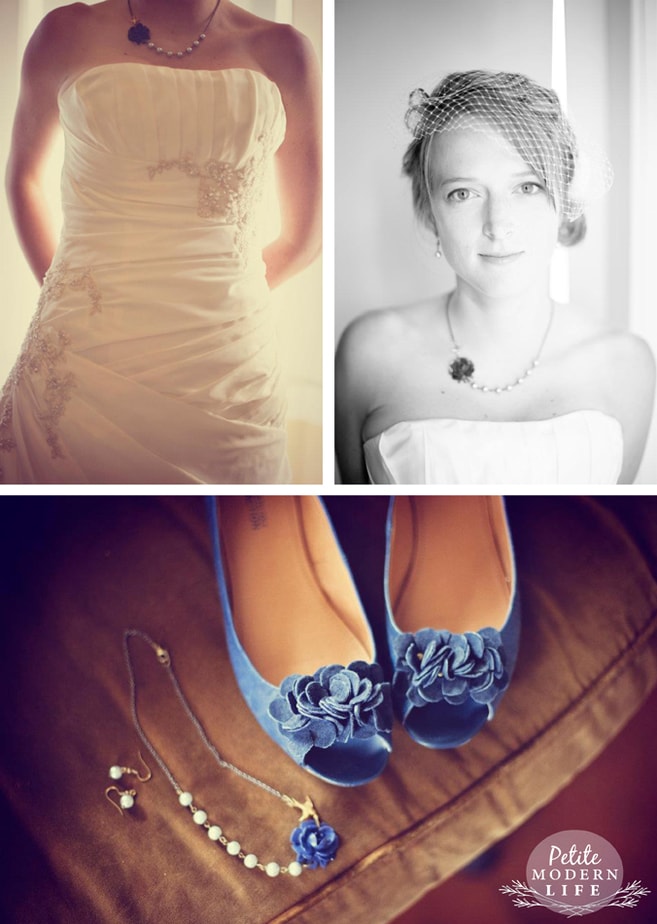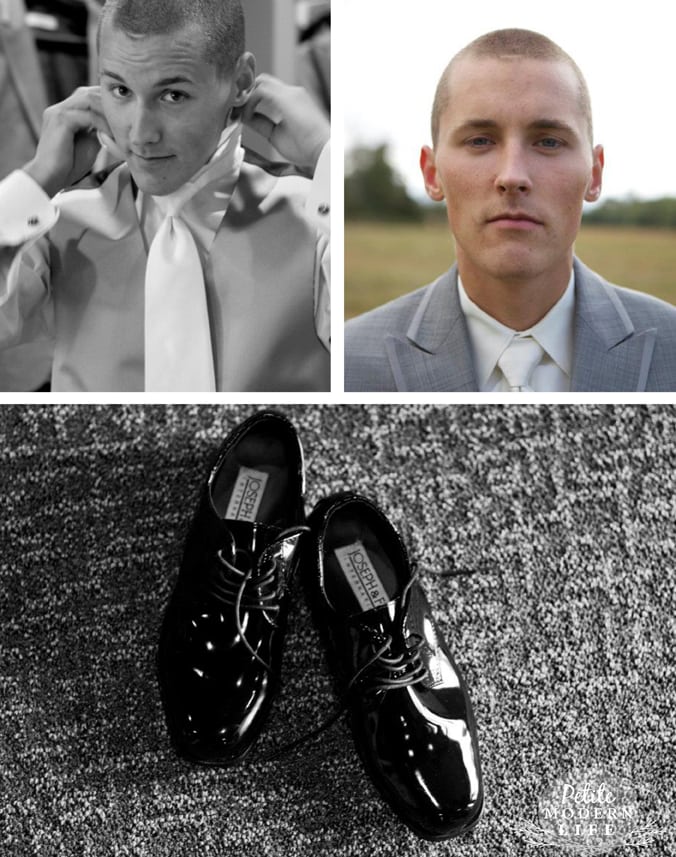 |Dresses|
I tried on wedding dresses at David's Bridal and fell in love with the very first one. Later I looked on Recycledbride.com for the same dress in the same size and bought one (used) from the East Coast for 1/2 the price! Good as new after dry cleaning! I borrowed the petticoat and bought my own corset. My bridesmaids dresses were done by a gal in town, but for simplicity/sanity's sake, I wish I would've had them just pick out their own navy dresses. They were good sports though!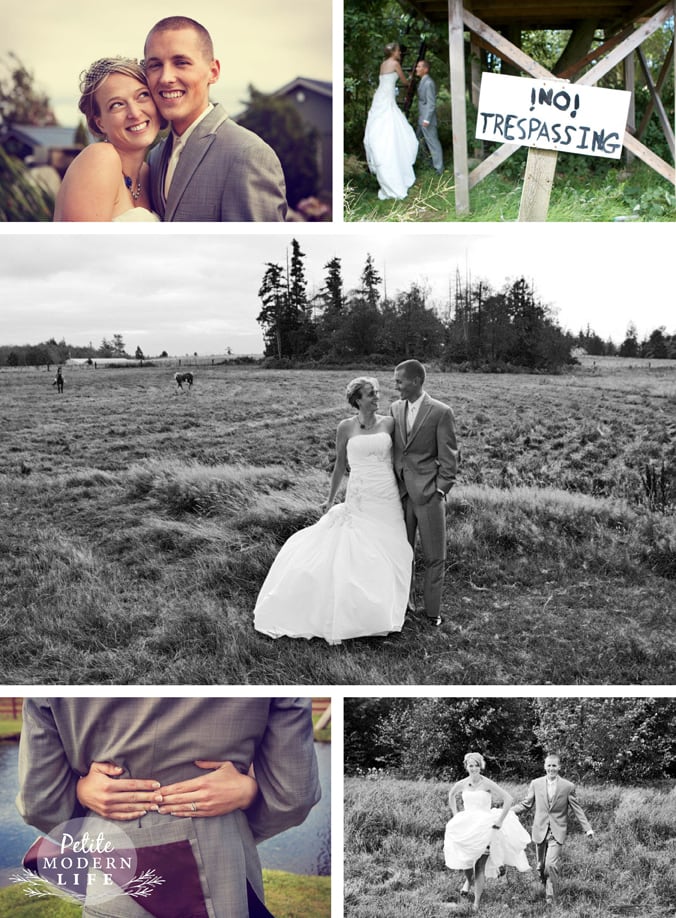 |Food|
We saved so much money on food! After discussing meal options, what and how and where it would be cooked and kept warm, we landed on this menu: BBQ Pork Loin with a side of Peach Mango Chutney, Rice Pilaf, Bread, Roasted Veggies, and a Mixed Green Salad. Then a FANTASTIC-I-owe-her-part-of-my-life woman did magical math, took our credit card to Cash & Carry (Like Costco, but has better prices on some foods) and got all the food needed for the big day. She gathered a team of other couples, family friends from church, who put it all deliciously together! We were loaned one of the HUGE state fair size BBQ's that my Uncle roasted the meat on all day.
|Drinks| Alcohol can be expensive. But using the estimators you can find online how much wine and beer you should have for a party. We bought [a lot] of beer cases from Trader Joes and all our wine from a local wine store. There was plenty and leftovers for about $300.
|Cake|
My aunt made my gorgeous 3 tiered wedding cake. I also had an extremely accomplished baker friend make four other exquisite cakes, each on a different flavor.. My only regret is that I didn't get to try every one…

|Music|
The sound system was an extra one from our church with a few hookups borrowed from our officiant's church. A friend who runs the soundboard at church kept it all in check. Three extremely talented musicians played all our ceremony music with a cello, violin, piano, and perfect harmonic voices. Another friend put together our reception dance playlist and ran it through his mac. With enough of the top hits, the usual wedding dance songs, and some fun oldies- the dancing was some of the best I've experienced! (I might be a tad biased.)

|Photography|
We chose a friend as our photographer. It's not his profession, but a hobby and we had seen previous work of his that we really enjoyed. Since he wasn't a professional, we were able to save a lot of money in that area, while still having a TON upon TON of great photos (and extras) to keep forever.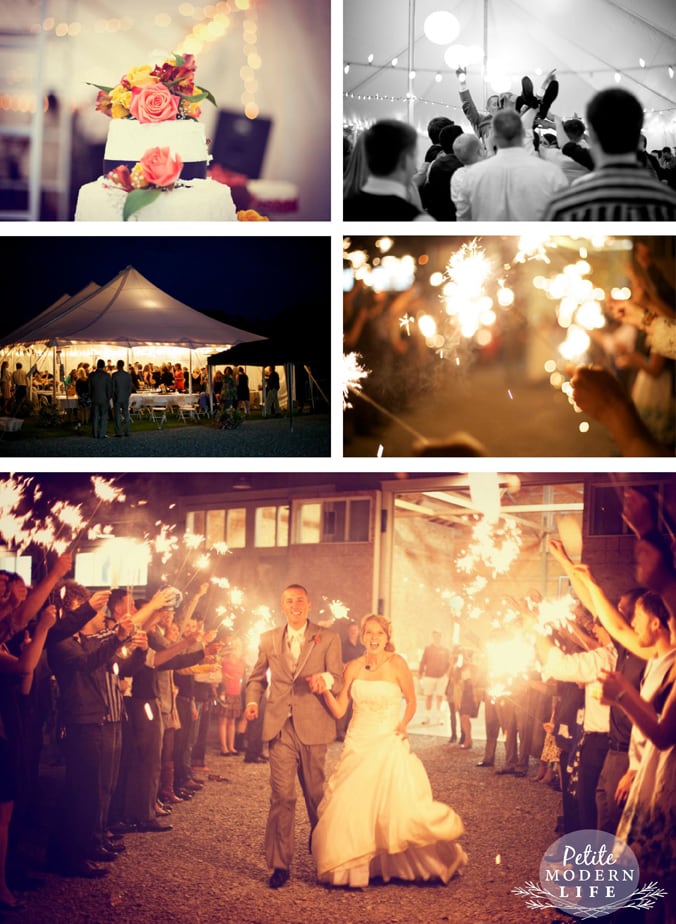 It was an amazing day to be sure. And I still get shivers of joy and gratitude when I think of all the loving hands that made it happen. We didn't need to break the bank to throw this memorable party of a lifetime, I hope you found tid-bits of information that can help you save on some parts of your big day too!
Love you babe. Let the good times roll.