Alright, if you follow along on Instagram you'll know that we've found new floors! If you don't follow on Instagram, I'll share our most recent pictures and then some (from my phone!) here for you! I suppose it's better than radio silence as a recent friend (– ahem Jaysen–) told me the other day. So let me fill you in on the recent happenings.
Costco usually carries a few styles of wood floors in their store and online. Sometimes they're real wood and sometimes they're laminate hardwood. Some of the styles come with installation and some come in bulk boxes. Two weeks ago I came across some Harmonics Laminate Flooring they had on sale for ~$1.30 per square foot and I actually LIKED it. They had two varieties that I liked, the Mill Creek Maple and the Camden Oak. When Mr. G and I finally went to the store together to check it out (on the last day of the sale), the only one left in stock was the Harmonics Camden Oak (and an ugly one that shall go unnamed. Unless you bought it then this is just awkward..)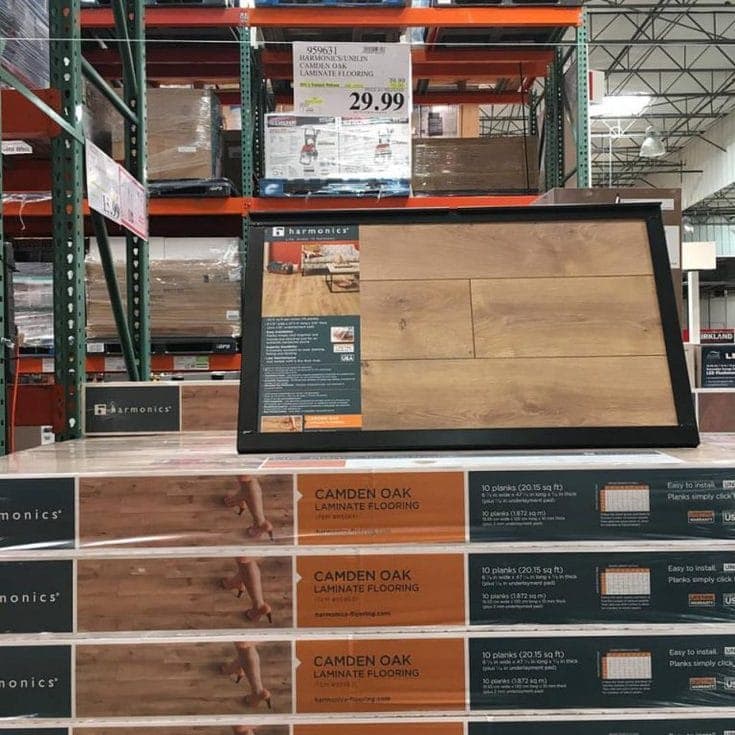 We could still get the sale online, but didn't want to spend extra on the shipping. So we mulled it over as our groceries thawed in the cart and the baby took yet another nap in the ergo and finally came to the conclusion of YES. Why the heck not. Let's just do it. And we bought all but 6 boxes they had in store (1000 sq.ft.) Ps. Hip hip hooray for Costco taking Visa now!! Hello air miles! Maybe we'll get to go to Hawaii after all this is said and done.
Two trips later, the groceries were back into safe temperature levels, the baby was sleeping in his crib, all the boxes were in the garage, and one was opened to sample around the house. It was a relief to conclude that we REALLY DID like them! You see, we spent waaaaay too long picking out floors for our last house. This time around having only 3 options to chose from was perfect. True statement, they look similar to our old floors. I guess we've found our preferred floor style.
We also found out that 3 of our friends have bought or are buying these same floors through the Costco sale! Very funny. It's like the Costco Hawaiian shirt that every dad has.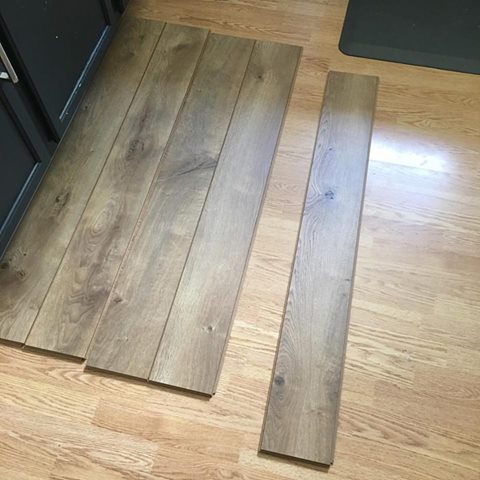 A big difference is the matte vs. gloss look. Not that I really attempted to shine my floors to see my face in them, but this texture is easier on the eyes and the random dust/dirt/fur particles can blend in a little better!
Down to work.
Stripping the carpet is relatively painless, assuming you're wearing a dust mask to keep allergies under control. Because no matter how much you vacuum and clean your carpets, dust and dirt accumulate hard core all the way below the padding. That's why we've decided to do hardwood throughout the whole downstairs. We're terrible at taking our shoes off, we're always running in and out with project materials and tools, and we have a dog. Pretty much spells out d-i-r-t right?! At least I'll know with hardwoods when the dirt is fully swept up and out.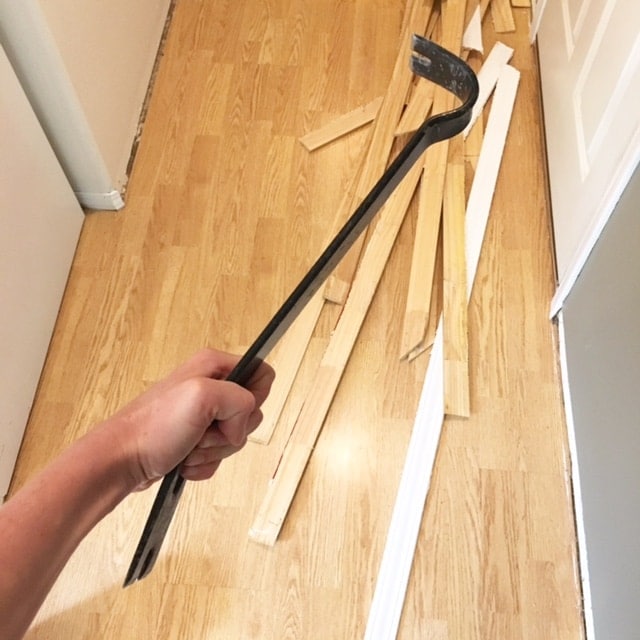 Most of the demo was done by yours truly. It kind of goes unsaid in this house that Mr. G does all the back breaking OCD detail/saw work so I should be able to do all the demo work. I therefore took one day of nap times last week to go to town with my trusty crow bar.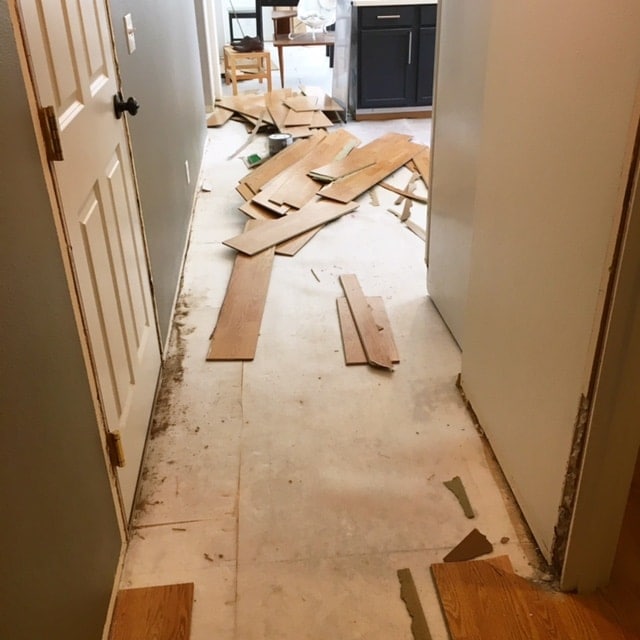 Even though I had painted every oak baseboard in this house while pregnant last fall, we decided we might as well purchase all new baseboards while we're at it.
When discussing this my husbands laughs out loud and says, "When we moved in I swore I wasn't going to do any of this. Now we've done the kitchen, floors, and will do the baseboards JUST like the last house. At least we haven't done the bathroom." …. I simply smile and nod.
The garage is so ready for a dump run at this point. Oh and don't forget my little helper who has been so good during all the banging, sawing, and running around. (And Ps. I got a new light that has me oggling every time I come downstairs :)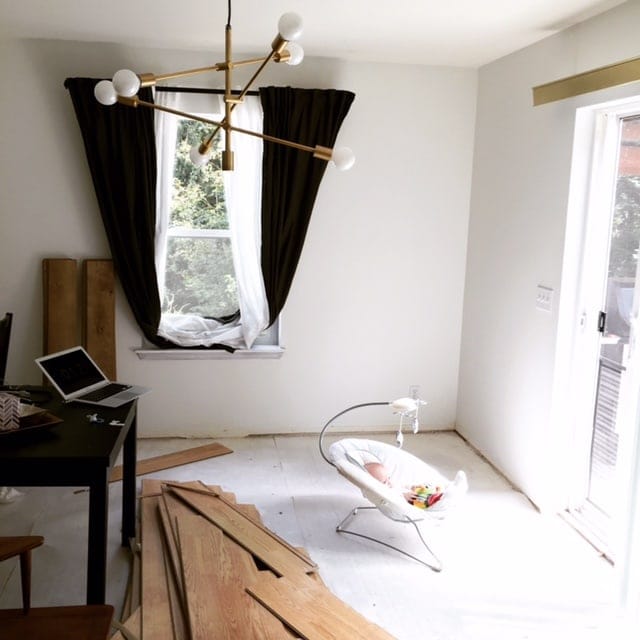 Saturday morning came and I loaded Mr. G up with bacon, eggs, cinnamon rolls, and lots of coffee and ibuprofen so he could go to town on the new floors.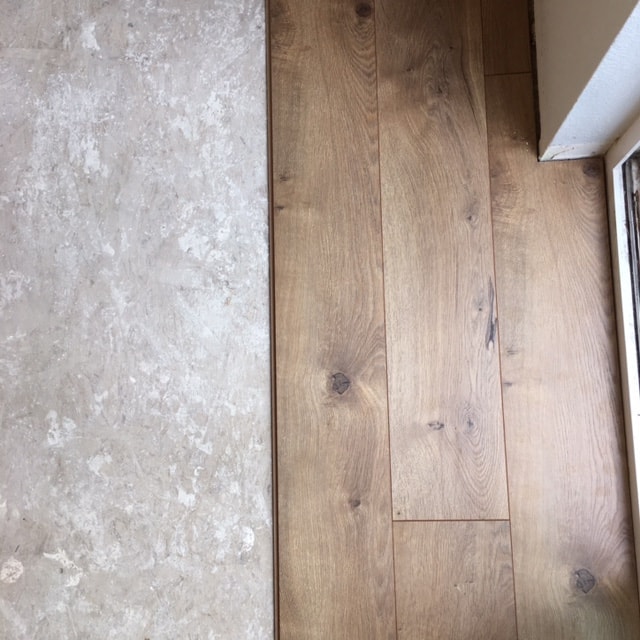 Tools to Lay Floors:
Oh and don't forget a handsome, hard working, person that you love and appreciate more than words can tell! (Also all the goods that keep him going: favorite cookies, goldfish, pizza, beer, exedrin. You know..)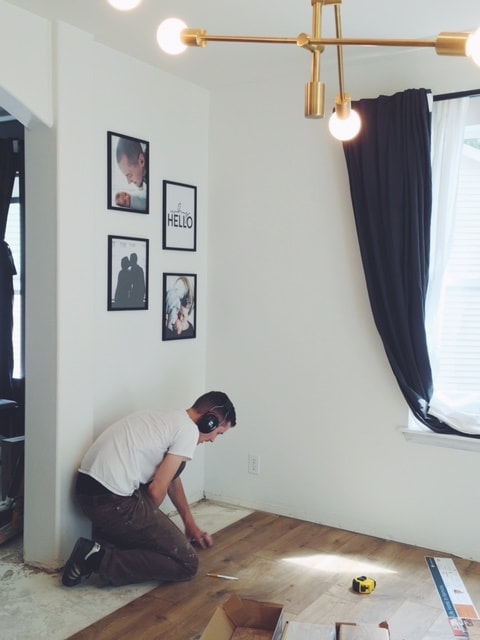 There was a lot of progress made this past weekend! There's still a bit to go, including some tricky parts like the bathroom and stairs (I'll try to remember to take some detailed pics of what that process looks like). Then we'll hopefully get the baseboards bought, painted, and nailed in before the end of the month! Wish us luck!
**FAQ on how are floors are holding up**
I'm worried about water spills with a busy household, how have yours held up?
+ Our floors have been holding up great. We've had some baby water bottle leaks/spills as well as full dog bowls (two beach towels worth) of water spills and they've cleaned up with no problems. With any floor that isn't vinyl or tile, you do have to clean up the water as soon as possible, but a leaking water bottle over a few hours hasn't given us any issues.
How do they hold up to kids and pets?
+ These floors see a lot of action. I allow shoes in the house, dogs running in the house, baby pushing anything that can slide in the house haha, and probably more than I should permit… So they have been tested! We haven't had any scratches or gouges. They've done great.
Did you spend extra on underlayment?
+ We did not spend extra on additional underlayment and do not regret it!
How do you clean the floors?
+ I use a basic sponge mop with a bucket/bowl/sink of warm water mixed with a few squirts of the mild Method Squirt and Mop Floor Cleaner. I walk with a towel behind the mop to dry it as soon as it's scrubbed. Another fantastic clean up tool is this dry mop with washable pads. Otherwise, I just like to run a vacuum once or twice a week.
Do you have more pictures of the floors?
+ Yes! Check out these links to other posts on Petite Modern Life. Here. Here. Here. And peruse the section of the blog titled Second Home for more posts that have the floors! Also check out my Instagram account to see them in daily action and lighting.
Ps. Follow @petitemodernlife on Snapchat and Instagram for fun/random house project updates!