As my interior design taste buds have matured (truly all thanks to Pinterest & my Mr. G's college time), I have fallen in love with Scandinavian style.  It's bright, airy, clean, minimal, cozy, and always involves gorgeous furniture.  I'd love to style my whole home with a Scandinavian flare, but I know it will take practice and dedication to transform my decorating and buying habits to such a style. So I'll start practicing right here, on this blog, with style boards that I can one day accomplish!
I'd like to start first with our living room, which is a total blank canvas save for the TV mounted on a large solid wall.  It flows into the dining room/rest of the house and has no storage, or character for that matter, except for our floors which I love. I'm looking for good storage options, objects that would brighten that end of the house, and furniture that is modern yet cozy for good family time. Here's what I've come up with today…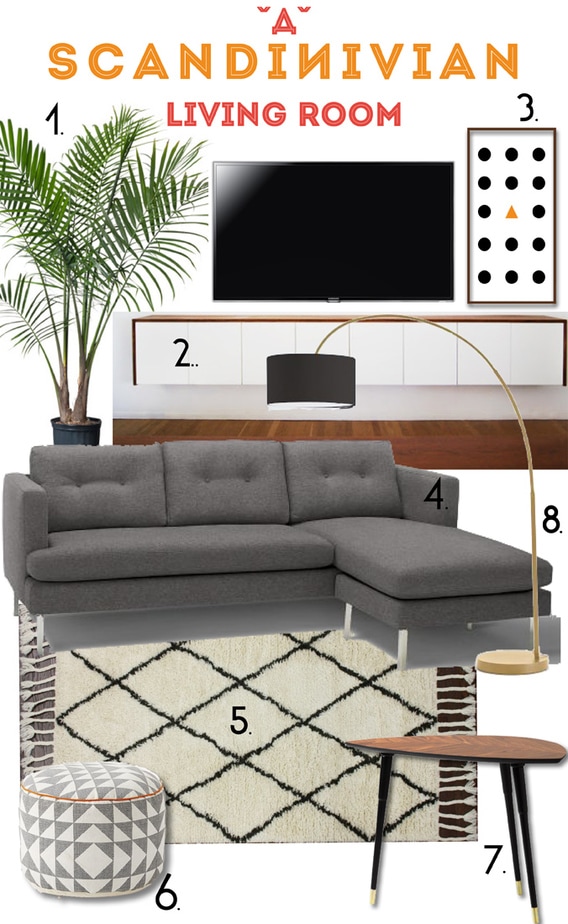 // 1 // Palm // 2 // DIY sideboard with Akurum cabinets // 3 // DIY Art // 4// Sectional   // 5 // Rug // 6 // Pouf // 7 // side table // 8 //  Lamp //
As I was making this style board, I kept seeing things and thinking "I'm sure I could make that" or "I'll have to keep my eye out for that on craigslist" — just so you don't think that we'd be able to budget out this ~$2500 room decor in a day/ever. However, it is nice to know who sells these styles and today it looks like I'm representing West Elm and Ikea. Ikea has some super fun items (that coffee table!?) this year. I need to make a trip to the store soon! And it's not hard to love just about everything at West Elm in any given season.  What I want to highlight is the floating sideboard for under the TV. I found the idea over at Nalle's House, a blog that features stunning Scandinavian home styling and great DIYs.  Here are some pictures of Anu's sideboard from her blog.. (Click pictures to link to her blog. As a courtesy, please pin any images directly from her site, thanks!)
Isn't absolutely gorgeous? What a great idea and Ikea hack. For some reason Mr. G and I started to convince ourselves to be done with Ikea and move on to more "adult" furnishings… Wrong. There are some things that Ikea just does so perfectly and beautifully and is much easier on your pocket book than elsewhere. And with hacks/additions like Anu's cherry milled wood top, Ikea is a great DIY choice for the home.
Basically I want to start right away.. I'm going to start saving my dollars and cents, scour craigslist for that perfect sectional, and look for sales (labor day?) for the other goodies!
Happy Friday!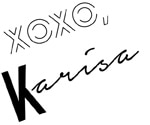 *This post may contain affiliate links to products I use and love. Read more on my FAQ page.*