Today on the 3D house tour, we're going to talk about our modern farmhouse kitchen design. Last week we talked about the entry and living room design.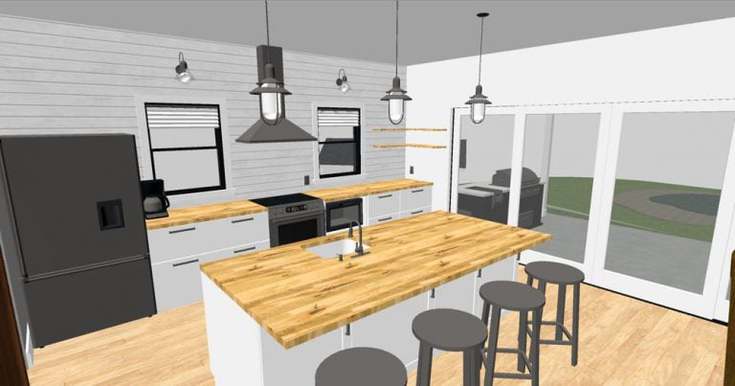 Our first floor house plan is open concept from the living room, dining space, and kitchen.  Here's a floor plan model to remind you of the layout.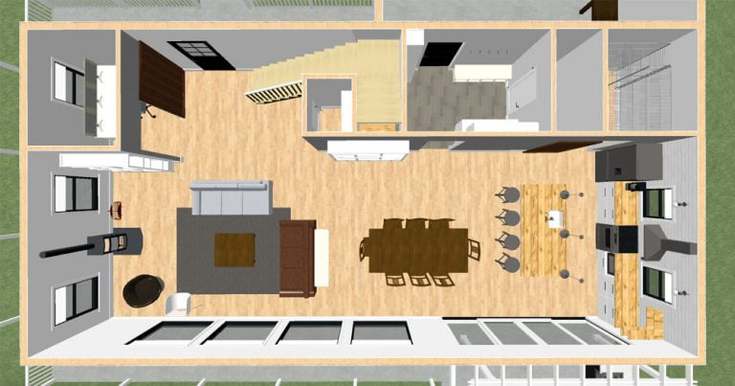 The dining table can face either direction in this layout, we'll play with it once it's physically there! We've always wanted to build our own large dining table of either wood planks or tree slabs, can't wait to get to that! (ok, any of it…)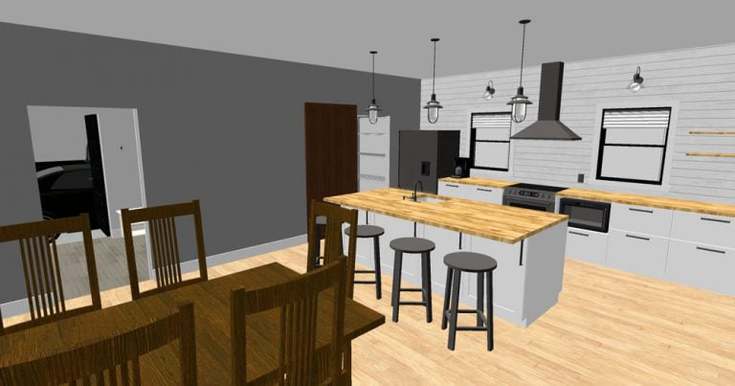 We plan on using drawers to maximize the storage space and accessibility of items in the kitchen. We'd like to use butcher block on the back counters and (though not shown) a white stone or composite on the island. The house will not have gas so we're looking for a nice electric range (no coils no..no). The sink and dishwasher wil be on the double wide island (with drawers on one side and cupboards on the other).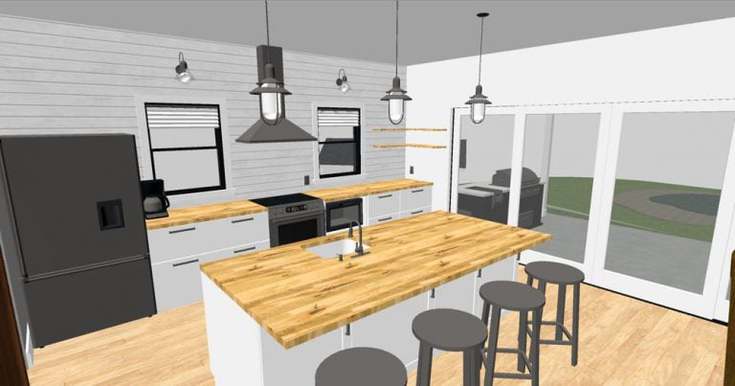 I admit, I'm a little tired of always doing subway tile backsplash, SO I really want to try a white tongue and groove end wall! I think it would pair beautifully with the overhead black sconces and the floating shelves as well as add some texture to the open concept layout.
If you wonder whether we'll have enough storage in the kitchen, have no fear! We'll have an extra large walk-in pantry to the left of the refrigerator.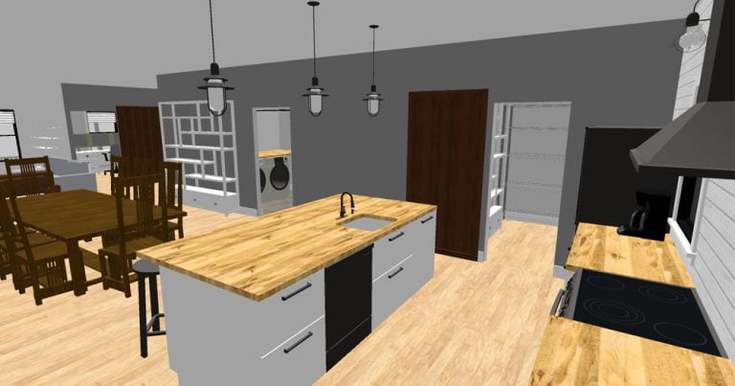 I think the pantry wall would look stunning with a sliding barn door similar to the one in the entry. The pantry will look something akin to this with cupboards and wood shelves.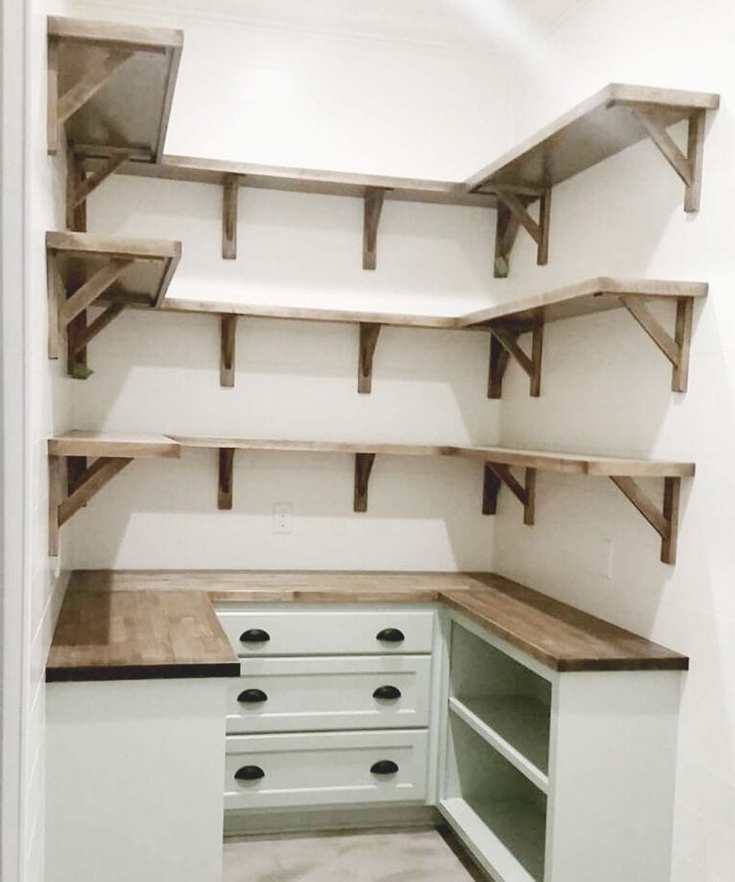 As I've thought and researched modern farmhouse kitchen designs, I've wanted to find components that will stand out, but hopefully (do we ever really know?) be timeless.
Here is my design board for our kitchen.
I've also been eyeballing these two beauties from Shades of Light..
I think black and aged brass would be classic with a touch of trendy that's not too overbearing. Hence why I chose black hardware and faucet opposed to the pretty brass ones. (Which I'm honestly obsessed with!)
My husband and I are both leaning towards lighter floors similar to the ones we had in our last house. I really like the fresh wood color of the ones in the design board. They just look like the floors you'd find in a farmhouse.
Leather accents are my thing. Can you tell? So there will definitely be some leather bar stools in the kitchen. They will also have backs because backed bar stools are a THOUSAND times more comfortable. Also leather. Did I mention leather?
What do you think of the modern farmhouse kitchen design style? Have any tips for where to purchase (and save $ on) your favorite lights, bar stools, and dining chairs? Share them all with me below!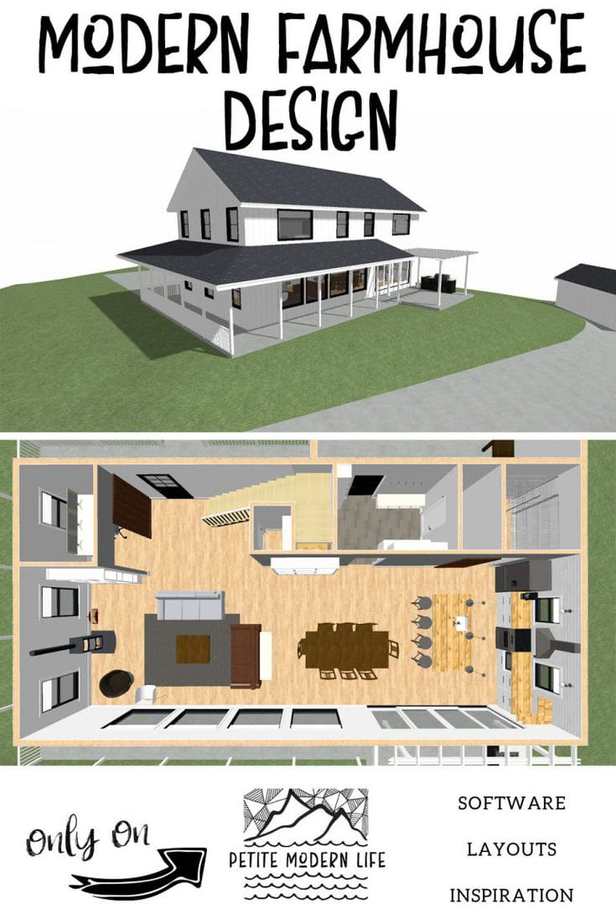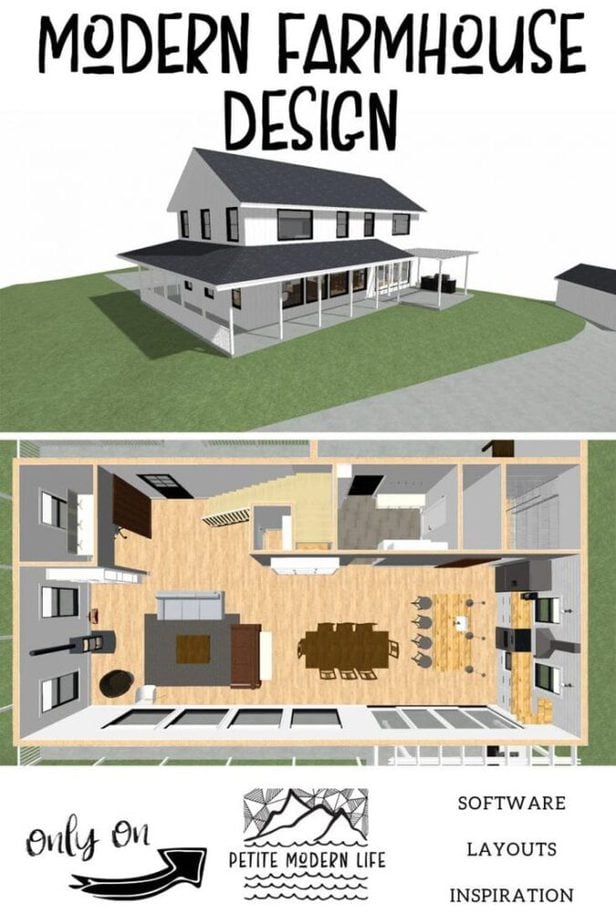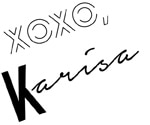 *This post may contain affiliate links to products I use and love. Read more on my FAQ page.*