It's DIY time again and I'm excited to share this simple diy laundry tote with you! Myself, along with a few of the other bloggers at Think and Make Thursday, were given a choice of beautiful Marimekko fabric from AlwaysMod.com and encouraged to create anything we wanted with it!
Marimekko fabrics and patterns have always caught my eye. From soft to bold, the colors and patterns are so creative and really compliment any type of modern and fun decor style you have!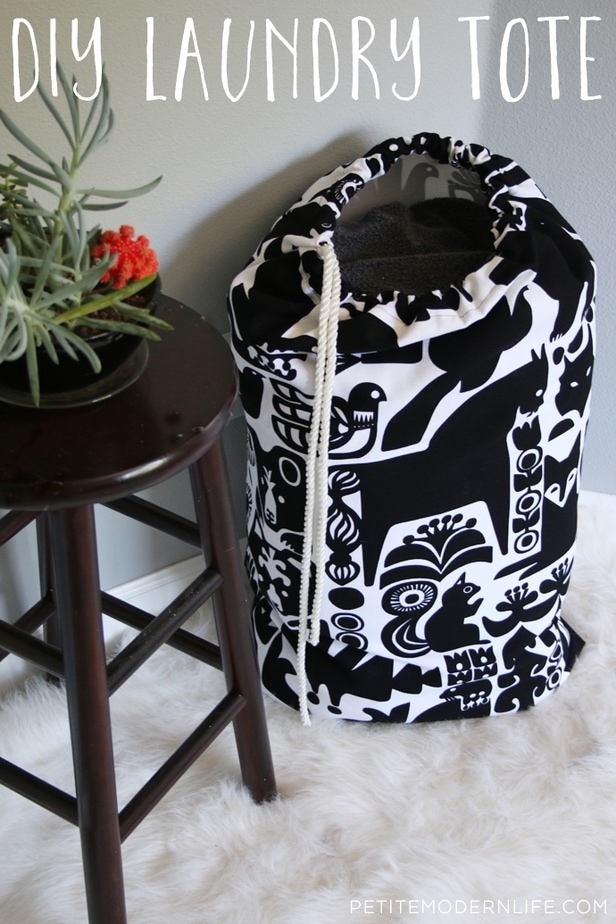 For this project I used the Marimekko Kanteleen Kutsu Upholstery Fabric.
**I was given free Marimekko product and no other compensation from Always Mod to complete this project. All opinions and raves are my own!**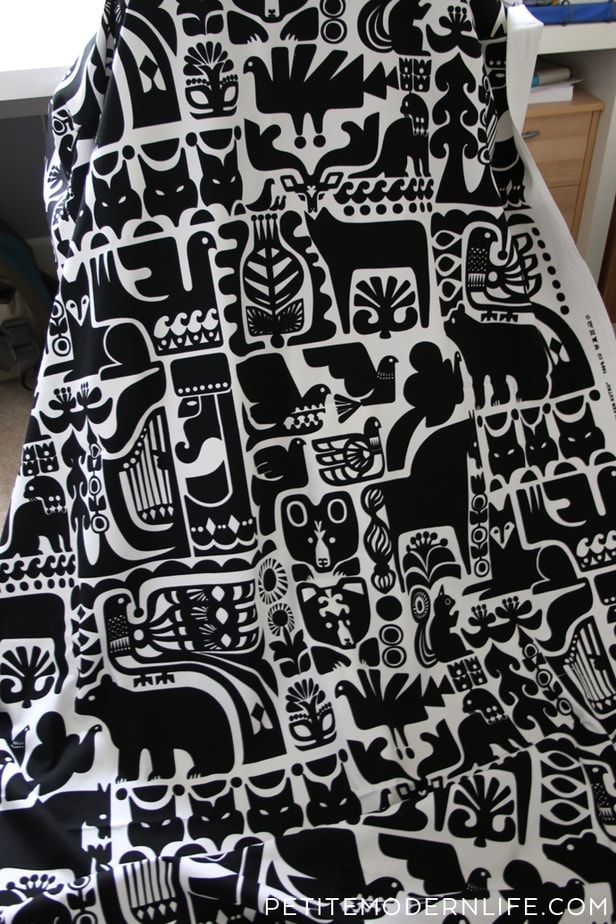 I love the bold, fun patterns of animals! It's kinda funky, but fits in with my love for black and white decor!
For this project you only need:
1.5 yards of fabric
6 feet of rope
Sewing machine and shears
Step 1: Cut your fabric to size. Mine was 46 inches across and 35 inches tall. That is including seem allowances and removing the selvage.
Step 2: Fold your fabric right faces against each other. Mark with a pin 4″ from the top. Sew down that side to the bottom and across leaving a 1″ seam allowance.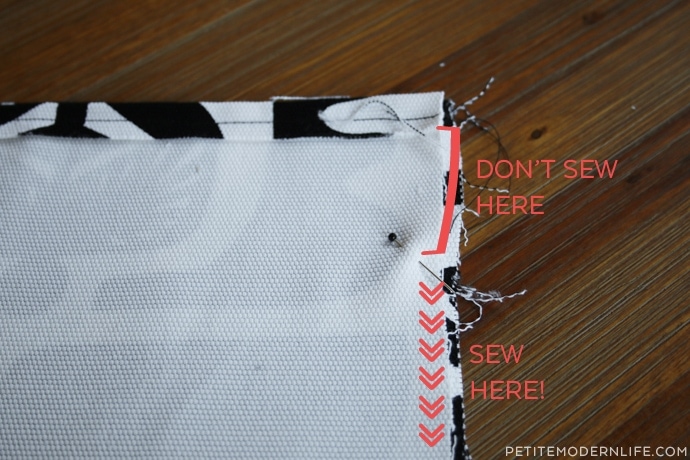 Step 3: Measure a diagonal line 4 inches from you bottom corners and sew across. Cut off the excess fabric.
Step 4: Create a clean top seam by folding the fabric down 1/2″ and sewing around.
Step 5: Create the pocket for your rope drawstring by folding down the top again and sewing around again leaving enough space to navigate your drawstring through.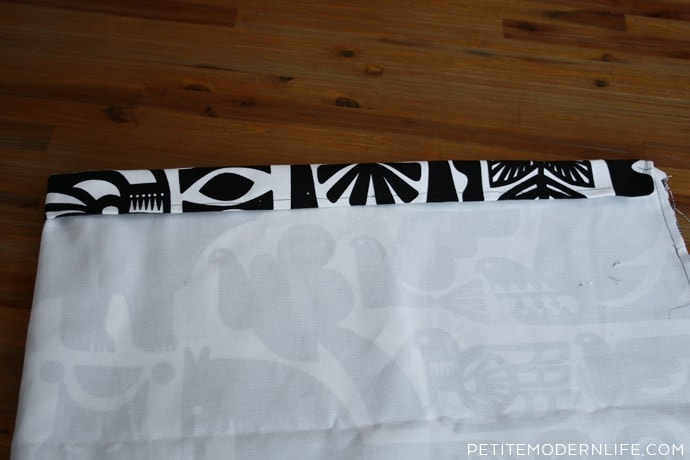 Step 6: Flip your bag right side out and guide your drawstring through the hole. This will probably be the most frustrating part.. The way I did it was to hook a safety pin through one end of my rope and push it halfway through with a BBQ skewer. Then, using the skewer with a hook on the end, I hooked the safety pin and pulled it through the other side! If I could've sewn the rope right into it, I would've! Give it a try if you can.
Now fill up your bag with towels, toys, laundry, whatever!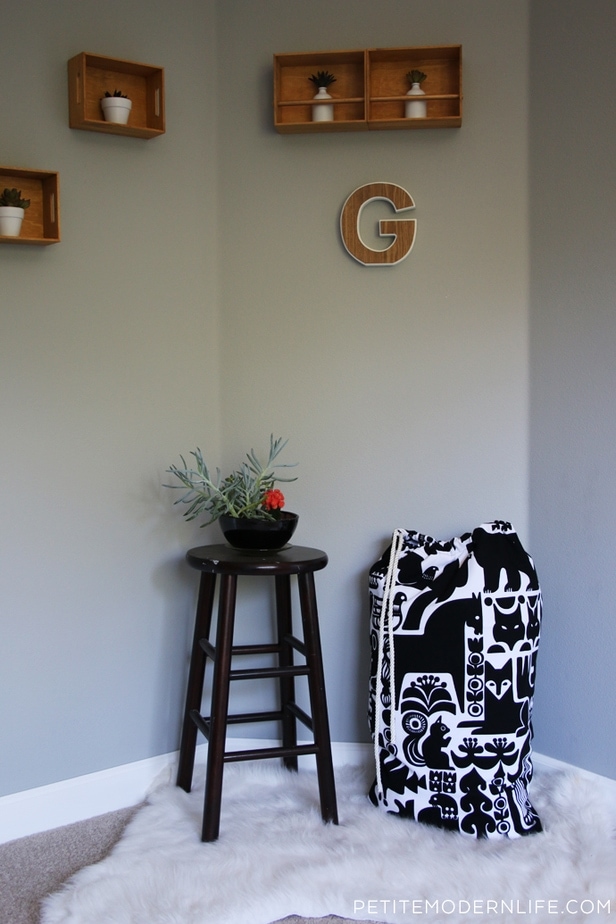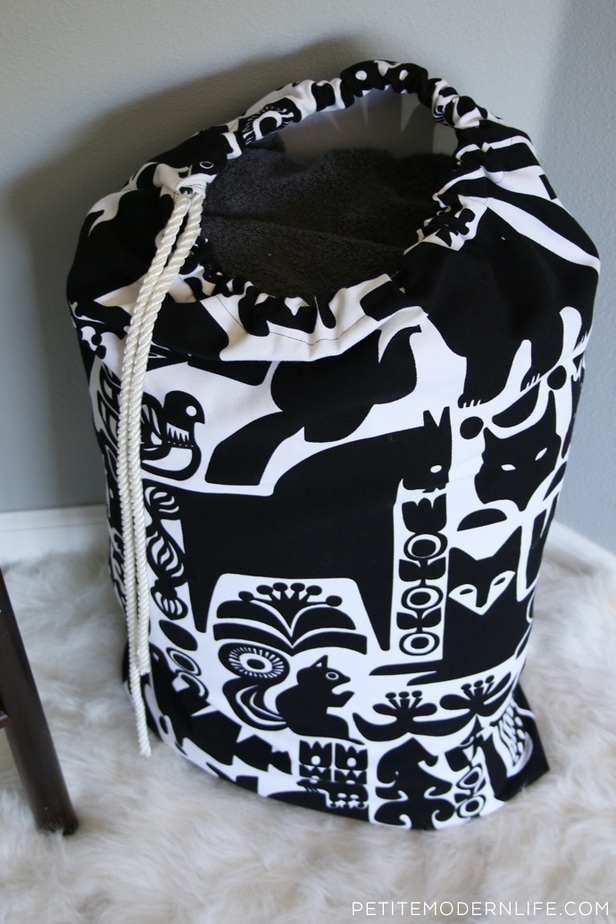 Do you love this fabric and project?! Stop by the blog Thursday to enter to win your own Marimekko fabric from Always Mod!
*This post may contain affiliate links to products I use and love. Read more on my FAQ page.*