Hey, thanks for coming back to check out our DIY Kitchen Island Part 2! In this post, we've committed to a cause and start breaking ground! …or wood? Hope you enjoy!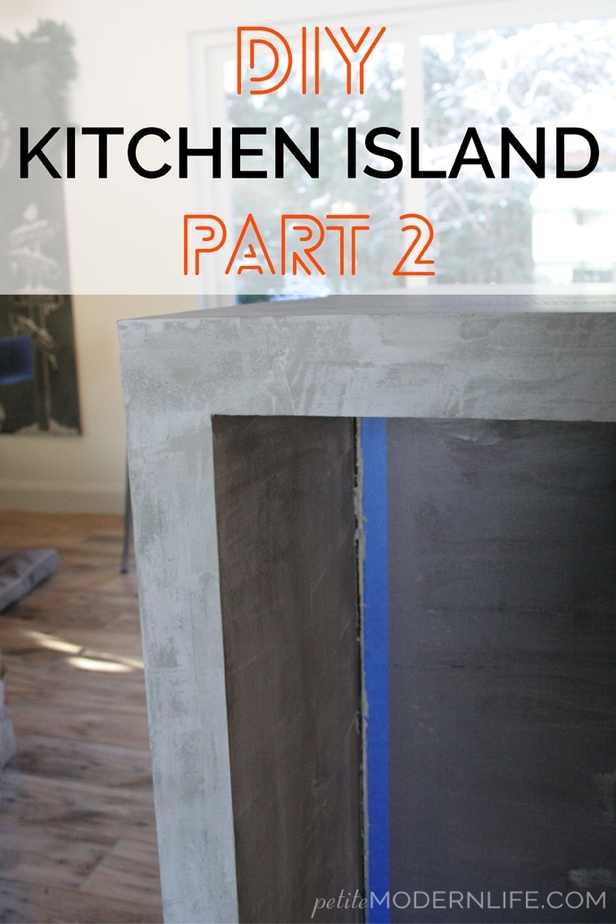 What does your dream kitchen look like? Is it granite? Butcher block? …Concrete? Since we started looking for a house I've been researching kitchens. I found one that continued to stand out to me. And, it was affordable, which is rare for anything remodel related! Here it is.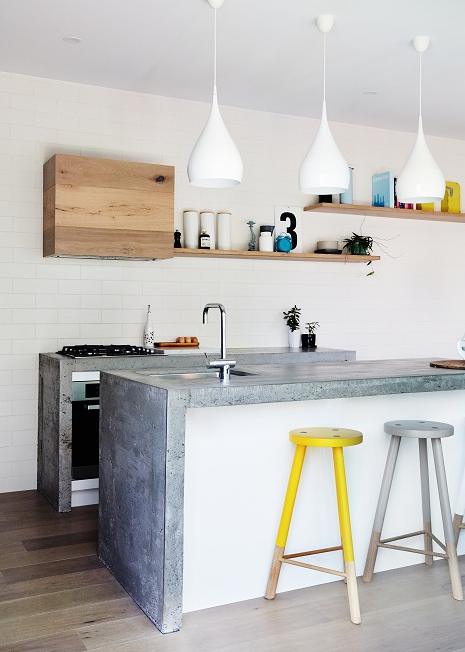 We decided to once again use Ardex- Feather Finish
. To make it look like it was a solid and thick concrete cast, we would make a wood form base. So we went to Lowes and bought three sheets of plywood that came to 2.25″ thickness. We had Lowes cut the plywood to our measurements. (Taking into special consideration the amount of overhang we wanted for the bar) My favorite pictures are of how we get this stuff to our house in our tiny cars!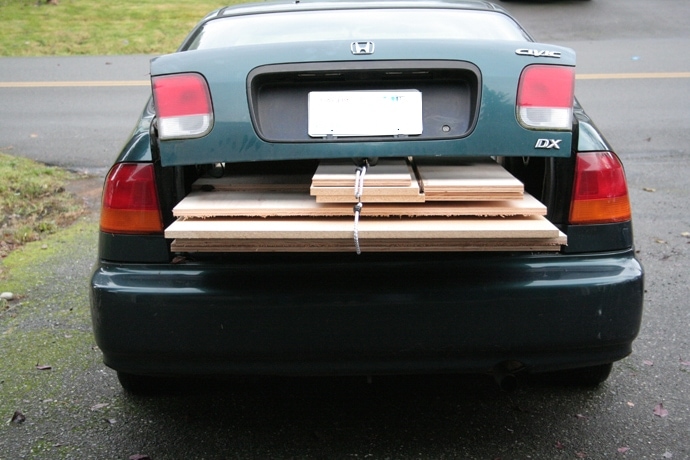 The first piece we attached was the waterfall end piece of wood. Mr. G screwed the pieces together in the garage, then mounted it firmly to the edge of the cabinets. We definitely were not shy about the number of screws we used to secure this baby. Also, the waterfall end is actually not resting on the floor, but floating slightly above it.
Next, we screwed down our first screwed down our first top layer to the edges of the cabinet. No pre-drilling, just straight into the cabinet (carefully). I helped press together the waterfall edge and the top edge while Michael put the first two screws in. We also did one super screw.


When we added the next two sheet we just screwed it down throughout to make it tight.


The wood was actually so pretty (and a very pretty penny) that Mr. G and I stuttered to cover it in concrete..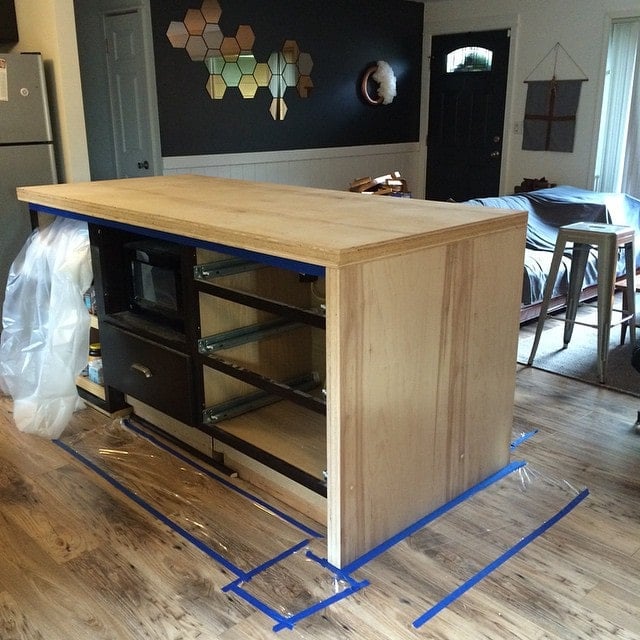 But, we were able to convince ourselves it would look great and that if it were left as wood there would be too much wood happening in the space. So with a skip in our step, we moved onward and upward with the concrete!
Here are some things we wanted to do different than our last DIY concrete feather finish job.
Have clean edges: Cautiously and pointedly add concrete in specific layers so you can't see "drip layers" on the edges.
Do really thin layers: It's easier to spread and work with this way. This also meant creating the perfect thin consistency of concrete and using a large (14″) trowel to spread it.
Be masterful sanders: Sanding's a b in general, but with a counter you want to use extra care to make it even and smooth. We knew this time we'd use a power sander starting with 200 grit and ending with 60 grit.
Learn how to make it last strong: Our bathroom one is holding up just find thus far, but we're not in front of it or on it everyday. The kitchen counter is like a family member. You dress it, clean it, roughhouse it, and see it every day (whether or not you want to!) So we read all sorts of praise and horror stories from people about their concrete counters. Sarah, from Sarah's Big Idea, has given a detailed update of her kitchen counters over the year. MIGHT sound depressing, but we weighed what we care about (cost) and don't care about (light scratches), and learned from her what might actually prevent said scratches (HELLA sealer and finishing sealer).
So we began! We mixed 16 oz of concrete powder to 8 oz of water at a time.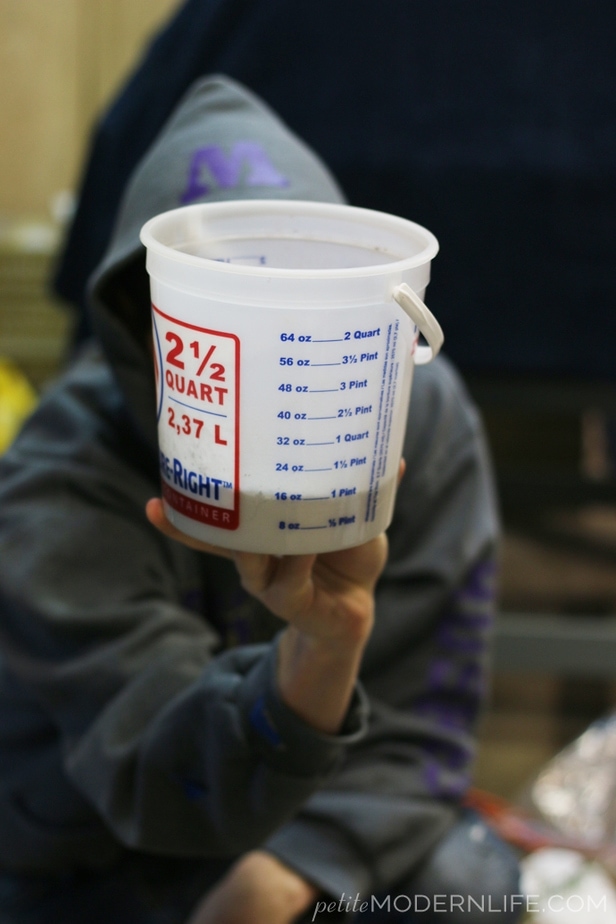 We bought a mixer attachment for our drill which was GREAT and mixed that baby up! Then we waited 5 minutes for the quick set before spreading.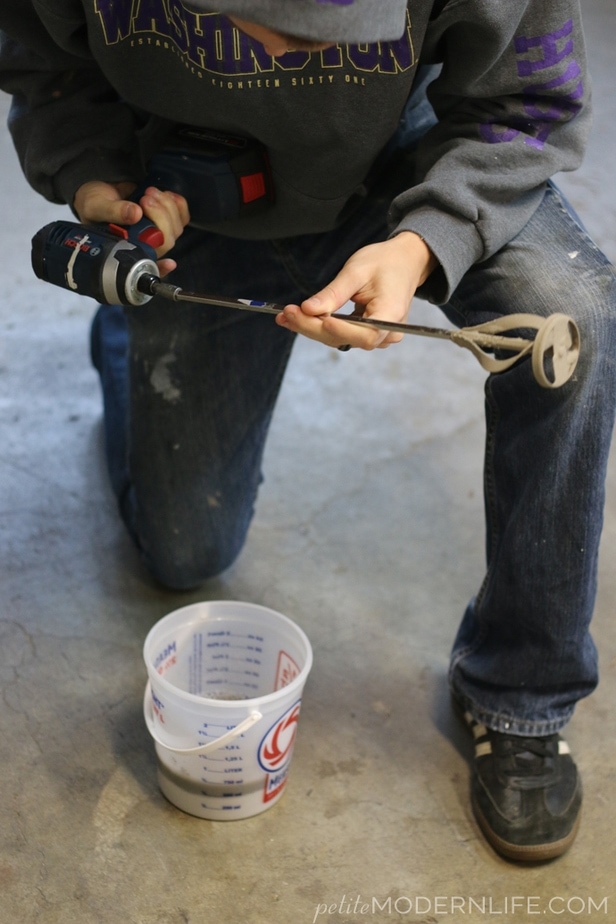 Mr. G really just spread the concrete in all directions, fixing the blob spots when he needed to.


You can see the difference in color from wet to dry. Mmm that gray concrete color that I LOVE! Also, a note, we did every side & angle of the counter. It's legit.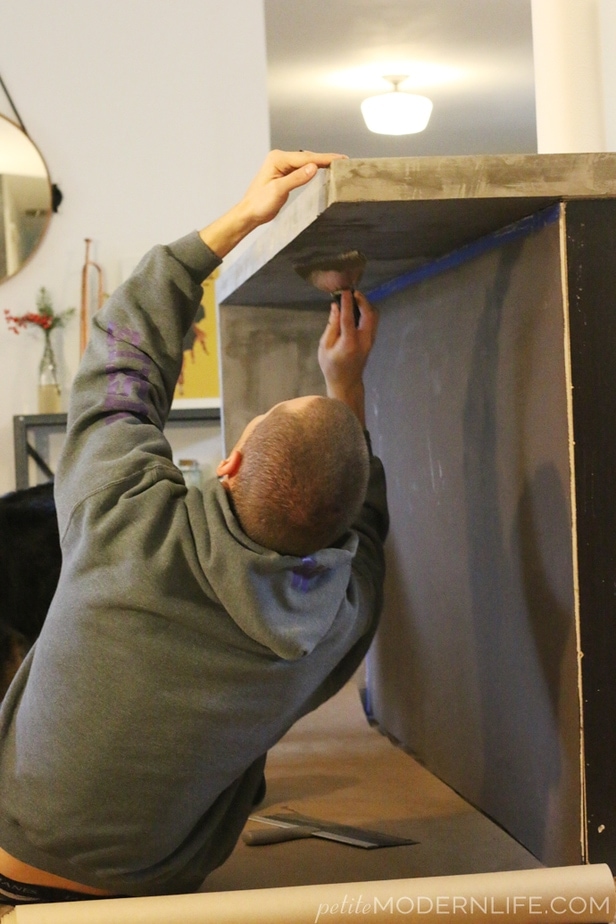 Moose, however, was not all that impressed.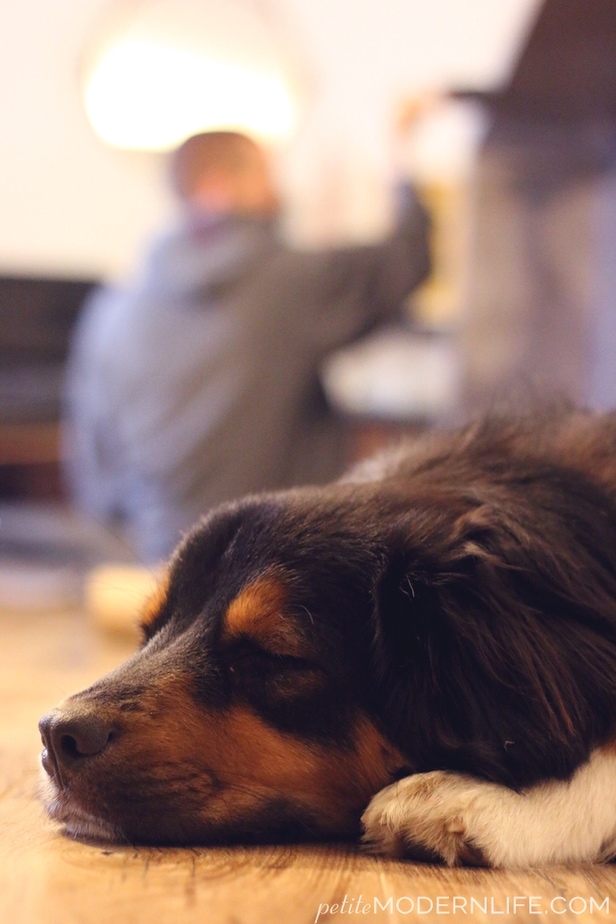 When it came time for the dreaded sanding, I had covered everything I didn't want to clean with sheets and blankets.
Then a sanding Christmas miracle happened.
We hooked up the shopvac to the sander!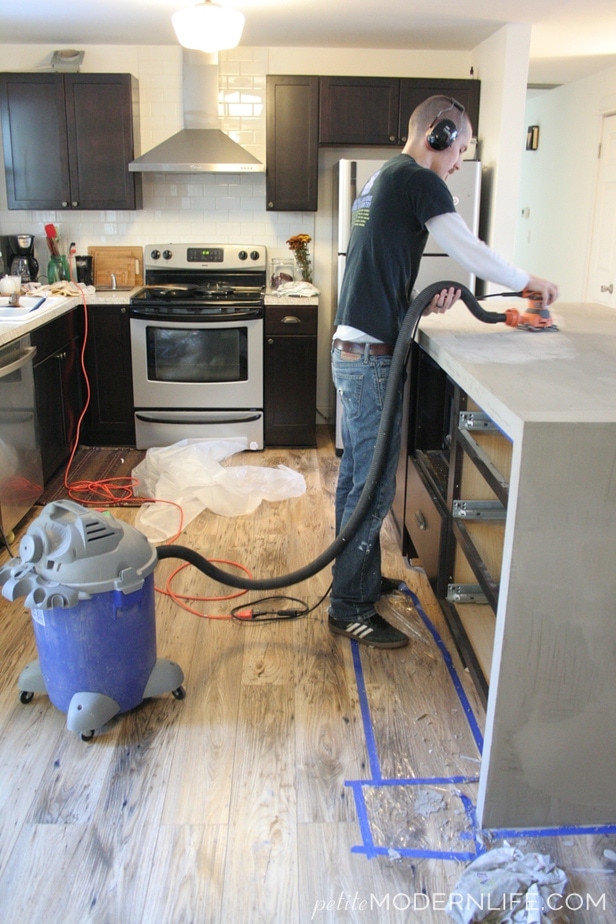 There was no dust! At one point I even cooked while he was sanding! Pure joyous insanity.
When it came to the "final" layer (our 3rd) we did it in specific portions to ensure the concrete would dry evenly and without splotches.
Final coat on the undersides. Use small trowel to remove concrete that gets on the other sides. Let dry for at least 12 hours.
Final coat on out facing edges & waterfall. " "
Final coat on top. " "
After that had dried well Mr. G switched to 60 grit sandpaper. The 60 grit paper removed the trowel scratches that had been urking him, so he was super pleased with that!
And we all lived happily ever after!!
….Just kidding. I heard a "Daaang iiiit." He had nicked a corner and you could see the wood again. *deep breath* So we are going to do yet one more coat! That is once the next bag of Ardex arrives from Amazon! We've used one and a (leftover) quarter bag so far on the project. Then we'll share the adventure of sealing with you! Because that's what we're here on the www for: sharing our woes and triumphs so you can make your home the way you've dreamed it could be one project at a time.
Until next time from the Grimstads and our tolerant Moose!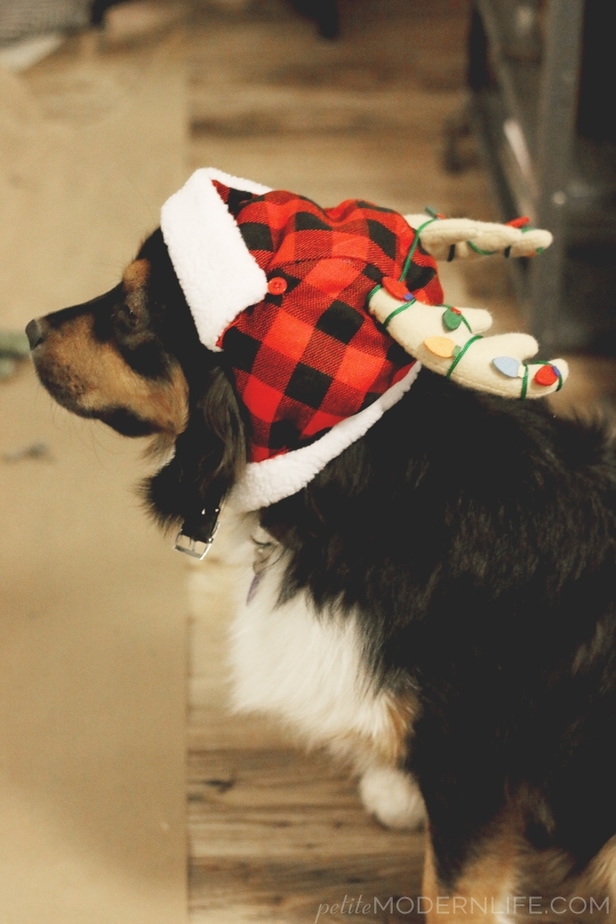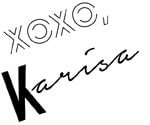 *This post may contain affiliate links to products I use and love. Read more on my FAQ page.*