My brother and sister-in-law bought their first home last summer. I was crazy excited for them! It finally hit me what a big deal it is to buy a house. It means that we're not broke college kids anymore, we've made it into the career world, and we've begun to work hard and put savings in the bank. Craziness..
E+C's house is lovely. It's spacious, has various updates, and a lovely private yard. Unlike us, they didn't want a fixer upper, just a move in ready house. But to make it a home they asked for a little decorating help. With the lessons I learned from decorating my parent's house in mind, and a Pinterest board created, we went for it.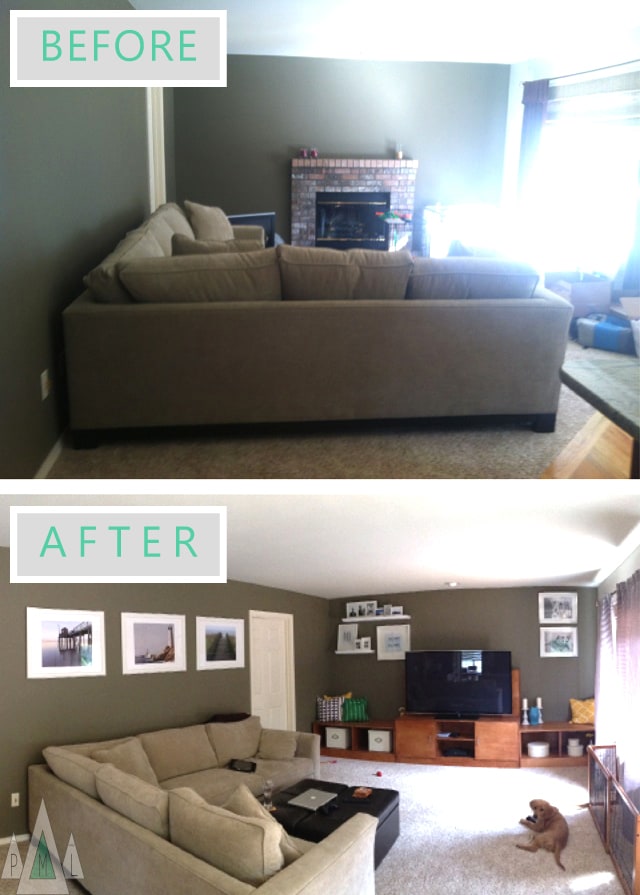 The questions we addressed:
1. Do you want to paint? Not now
2. Do you want a crisp contemporary look or warm traditional? Crisp Contemporary
3. Do you have previous décor that we can reuse? Limited
4. Have you discussed the amount of $ you're willing to spend? Up to ~$600
Then we took in the room and how to use the space.
1. The left wall would benefit from large framed pictures. Large frames would help make the wall feel big above the sectional.
2. Replace velvety sun bleached red curtains
3. Add floating shelves on fireplace wall
4. Use silver and white frames
Eric and Courtney wanted an entertainment center to cover their fireplace and ended up making their own! Having the new TV in place helped us visualize where the floating shelves and pictures would end up. We also decided to make cozy bench seats on top of the lower shelves.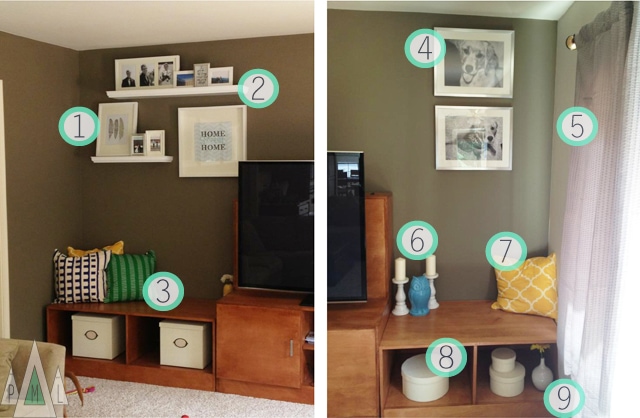 Where it's from
1. Pictures found on pinterest and printed large at Costco!
2. Floating shelves: Home Depot $38 + $20
3. Ikea SKARBLAD pillows: $9 each
4. Ikea picture frames: $2-$20
5. Grey curtains (2 panels): Target ~$60
6. Block candle holders and owl: ROSS $22
7. Throw pillows: Costco $14
8. Ikea KVARNVIK boxes: $17
9. Ikea SOLONG vase: $8
Later on Courtney made her own navy and white striped cushions to top the benches for a sweet finishing touch!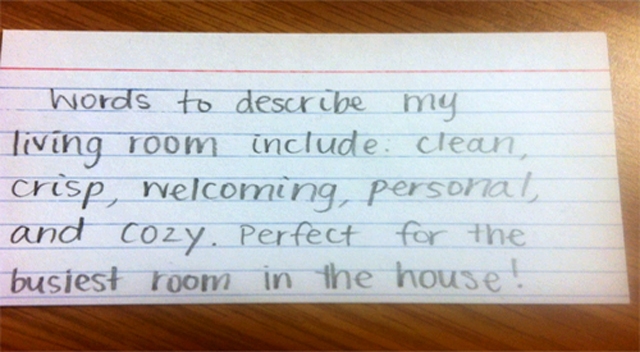 – Courtney
Yours,
K A R I S A
*This post may contain affiliate links to products I use and love. Read more on my FAQ page.*