So I just caught wind of a very fun spring challenge called the One Room Challenge hosted by the blog Calling it Home. It's a challenge for bloggers to makeover one room in a 6 week period of time, posting and linking their progress weekly to Calling it Home. There are no winners, but it's a fantastic place to meet new bloggers, get inspired, and get something DONE!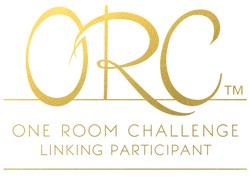 This sounded like the perfect challenge to complete my office makeover that I've been planning and scheming without the drive to complete fully. For those that are new around here, let's start at the beginning. Here is what the before of the office looked like.
A basic small room that, as I've noted in the picture, needed some character adjustments to become the office that I've been dreaming of. The room needs some drastic, though minimal, character to get to a point of "office bliss" for me. Here's what I'm thinking…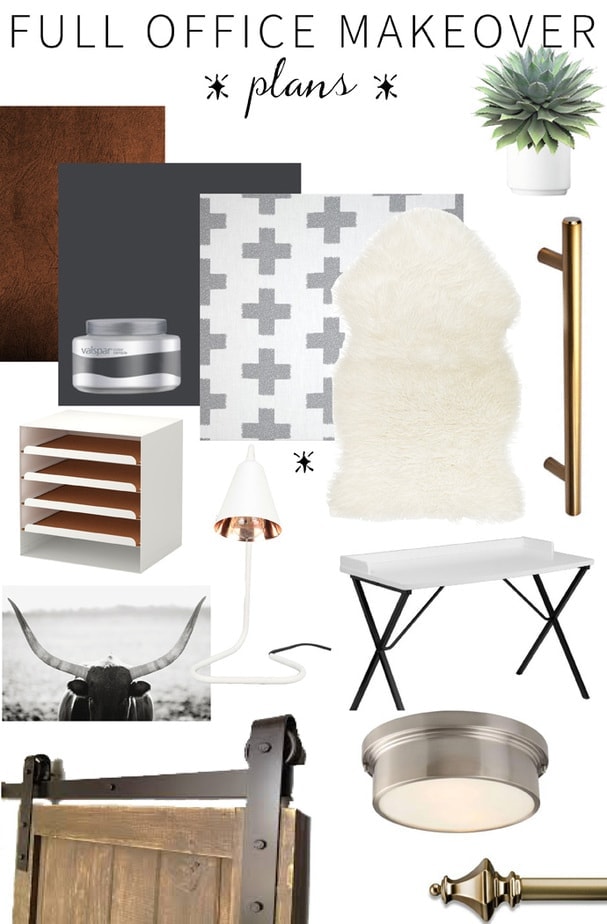 Now let's talk through the vision, some of which is already underway…
I need a new desk and have to decide which wall I most want it to go on. I have a "little-tiny-big" (as the 2 year old I nanny says) obsession with black paint and decided I wanted to use Valspar Kettle Black paint in a big way… Otherwise I'm aiming for an industrial modern office space with black, white and gold accents.
The biggest project for this room will be the closet side of the room which, as of now, is doorless, shelfless, and lifeless.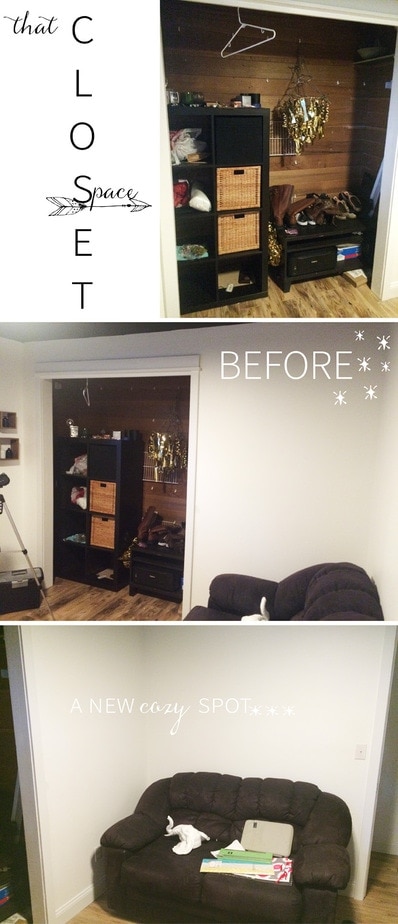 My goal is to create an industrial modern themed area that can help keep me organized and relaxed in my office space. This means I'll need to figure out the best closet organization system for me as a diyer, sometimes sewer, and in general a somewhat organized human.  Save for the DIY Floating Sideboard, I've never built an organization space, let alone designed a closet space!
I'm very excited about making some sort of sliding door for the closet. It'll function as wall art while it's open and beautiful coverage while it's closed. I love this look from Vintage Revivals..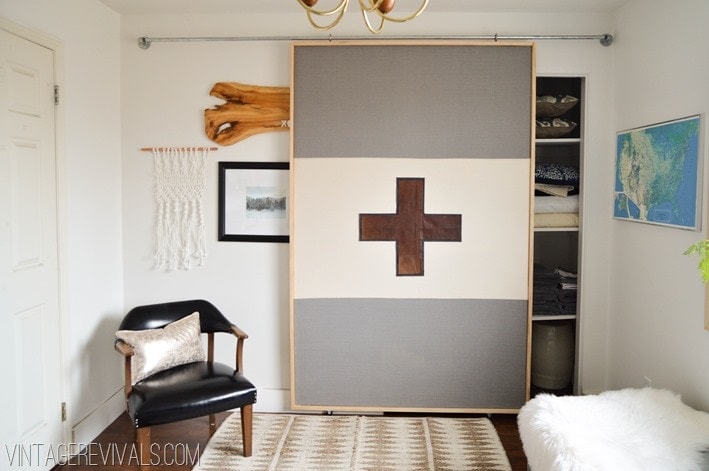 I also love different textures when I can have them, so I plan on incorporating some faux fur, leather, and a cotten blend to warm the space up. I look forward to jumping on this project and sharing the progress with you!
Ready. Set. Go time.
See my other ORC weeks here!
Thursdays, April 2nd (week 1) – Introduced the office makeover and plans! 
Thursday, April 9th (week 2) – Showed my black, white, and gold progress in the office!
Thursday, April 16th (week 3) – Talking about my setbacks and "happy accidents."
Thursday, April 23rd (week 4) – Sharing how it's going while feeling the time crunch!
Thursday, April 30th (week 5) – Did I revise my plan? We shall find out….
Thursday, May 7th (week 6) – The Finale – Photo-op time!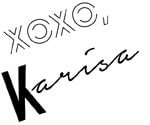 *This post may contain affiliate links to products I use and love. Read more on my FAQ page.*